Ashikaga City in Tochigi Prefecture is one of those cities that exists out of most people's realm of knowledge, but we're here to let you know why it shouldn't be overlooked.
Not only is it a great day trip from Tokyo, but it also won't cost much, and you'll have seen something that most tourists don't. There's more to Tochigi than Nikko, and Ashikaga is the proof.
How to get to Ashikaga City
Ashikaga City can be accessed from Tokyo using several routes. But if you have a JR Pass, the best way is to get the Tohoku Shinkansen from Tokyo Station To Oyama Station. From there, switch to the Ryomo Line and get off at Ashikaga Flower Park Station for the flower park or Ashikaga Station for Ashikaga Gakkō and other sights. The journey takes 1 hour and 30 minutes. With a JR Pass, it is free, but without it, it will cost you ¥4,590.
An alternative and the cheaper route is to either use the Ryomo Limited Express from Asakusa Station direct to Ashikagashi Station and then walk 13 minutes to Ashikaga Station (1 hour 30 minutes, ¥2,050); or — if your plan is to head directly to Ashikaga Flower Park Station — change at Tochigi Station using the Nikko-Kinugawa Line or Tatebayashi Station and then Sano Station on the Ryomo Limited Express.
Ashikaga Flower Park
3-minute walk from Ashikaga Flower Park Station
¥
400
–
¥
2,100
Ashikaga Flower Park isn't very old — it only opened in 1968 — but it is big. At a whopping 20.3 acres, the park features many species of flowers throughout Japan's blooming seasons. The park has created eight separate themes across the year to coincide with the flowerings, and even though all on show are extremely beautiful, we think the best time to go is from mid-April to mid-May or from late October to January. The first because of the famous wisterias and the second because of the LED illuminations.
Suggested Activity
Tsukiji Fish Market Food and Walking Tour
Join this food and walking tour and discover the famous Tsukiji Fish Market. Explore the outer market as you sample the area's highest-quality delicacies and finger foods.
Ashikaga Flower Park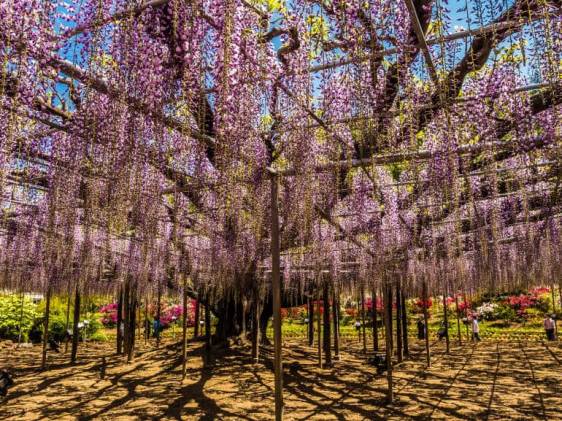 607 Hasama-cho, Ashikaga city, Tochigi-ken
Varies on season; usually 10 a.m. to 5 p.m.
Ashikaga Great Wisteria Festival
The Japanese have a special fondness for wisterias — the flower has been featured in poems since the 8th century. The six different species at Ashikaga Flower Park's Great Wisteria Festival are the country's oldest and biggest: one of them is over 100 years old and its trellis covers an area of 1000 sq. meters (10763 sq. feet) while others, in various colors and shapes, account for a big part of the park's beauty and fame. Find out more in our event listing below.
Ashikaga Great Wisteria Festival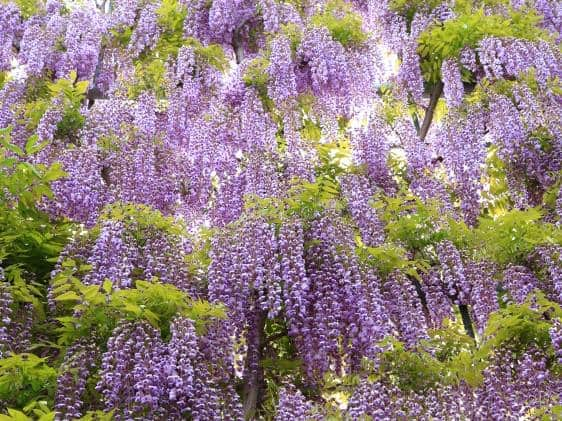 Ashikaga Flower Park Illuminations
The Ashikaga Flower Park Illumination event happens every year and is ranked as one of the best illuminations in Japan — for a country that prides itself on its winter illuminations, this is quite an accolade. While happening in autumn and winter, you can still relive the wonder of spring by viewing wisteria-inspired dangling purple lights.
Ashikaga Flower Park Illuminations 2023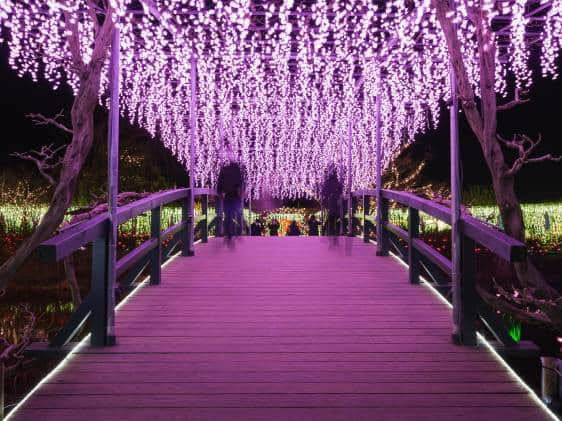 At the door: ¥1,300
At the door: ¥700
Ashikaga Gakkō
13-minute walk from Ashikaga or Ashikagashi Station
¥
420
Ashikaga Gakkō was Japan's first organized school. It was a specialized college founded (allegedly) in the ninth century but resurrected in the early 1400s. The school's library still contains thousands of volumes of Chinese literature from this period, including some books extinct even in China.
But unless you're an academic, the above probably won't interest you too much, but what will (and is worth the ¥420 entrance fee) is the beautiful buildings and surrounding greenery. The buildings are open to go in and explore. There are few things in the world more peaceful than sitting on a veranda and gazing at an idyllic Japanese garden.
Ashikaga Gakkō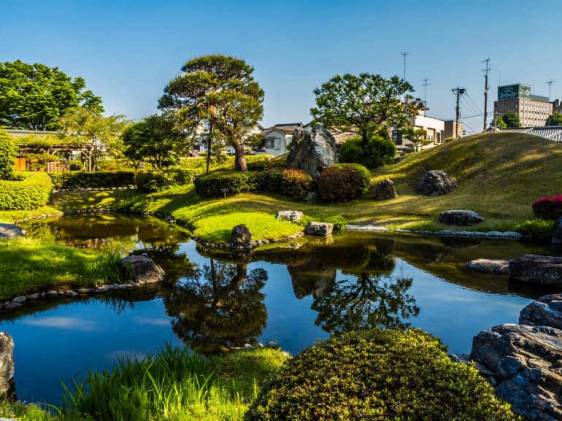 2338 Shoheicho, Ashikaga, Tochigi
9 a.m. to 4:30 p.m. Apr–Sep; 9 a.m. to 4 p.m. Oct–Mar
Other things to do in and around Ashikaga City
Venture further and see what else Ashikaga City is famous for — fabrics. The area was known for its production of fabrics (and particularly silk) from the 17th century onwards, and there are quite a few spots where you can see old machinery still in action. It is also famous for its soba noodles, so don't neglect to sample the many dishes on offer.
Ask our local experts about Tokyo
Get our Tokyo Cheapo Hacks direct to your inbox
Popular Posts From Tokyo Cheapo
Popular Posts From The Cheapo Network