Weighing in at 4,000 tons and big enough to hold the Nara Daibutsu in the palm of its hand, the Ushiku Daibutsu in Ibaraki is a surprisingly little-known gargantuan wonder just outside Tokyo. With stunning views from the internal observation deck, a calligraphy room and a display of over 3,000 golden Buddhas, this is a statue like no other. If you thought you had reached the end of your Buddha-based tether, this one is worth making an exception for.
Getting there
South East of Tsukuba City in Ibaraki, the former Guinness World Record–holding statue (still amongst the top five largest statues in the world) is a little off the beaten path, but by no means difficult to reach, and definitely worth the extra effort. Built in 1993, it commemorates the birth of Shinran, founder of the Jodo Shinshu sect of Japanese Buddhism—and it does so magnificently. I was entirely unaware of the giant statue until a phone was shoved in my face with a picture and a mutter of 'can we do this?' came from behind it, as my brother made his only—but to be fair, excellent—suggestion for the trip. After some googling we set out in July with sunscreen, optimism and a bus timetable. An hour from Tokyo Station, Ushiku  is small, but has a conbini so you can stock up on snacks if needed. The bus departs from the East exit and is about 20-30 minutes to the statue. (Although it is advisable to check with your driver that he does indeed go all the way there, as we ended up having a local tour on the alternate bus route, with looks of horror exchanged as it suddenly  turned away from the statue in the distance and towards a tiny village road. Learn from our mistakes; always check). After our kind bus driver let us sit on the bus and wait for the next statue-bound departure, we finally reached the breath-takingly massive statue. Photos, as ever, cannot do it justice, and my attempted descriptions even less so, but believe me; it is stunning.
You enter the park area through a small gate, purchase your ticket (700-800 yen depending on the season) and walk down a beautiful path towards the statue. A bell is available for ringing if you feel the need, otherwise, just enjoy the view and be disappointed by the photos you inevitably try to take.
Ushiku Daibutsu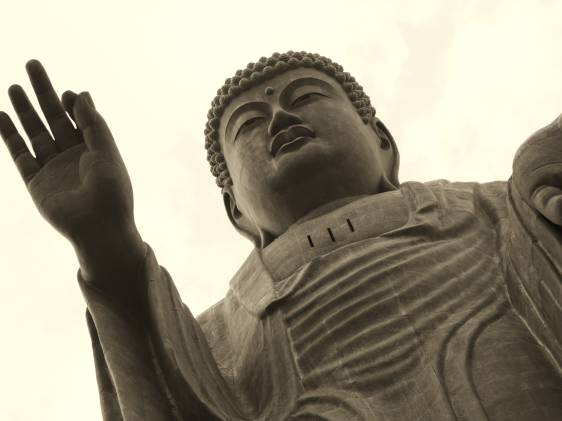 2083 Kunocho, Ushiku, Ibaraki 300-1288, Japan
March to September: Weekdays: 9:30am-4:30pm; Weekends: 9:30am-5pm | October to February: 9:30am-4pm daily
 What's Inside
When you have exhausted these options, the fun can begin. Now, I won't lie, half of the joy of this experience is the surreal bizarreness that happens, so I don't want to spoil that for you. We went in blind, alone and with limited Japanese, so it was a kind of 'what on earth is next?'  situation, which is often the best kind. You start off on the ground floor is the World of Infinite Light and Life. It is pitch black, a voice emanates from above in Japanese and a single Buddha is illuminated with smoking incense, dramatic music and eerie lighting surrounding you. I actually wanted to stay here forever, but you are eventually ushered into a lift to ride to the observation deck. Unfortunately all voice-overs are Japanese-only, so unless you speak the language you will remain uninformed, but may have to give appreciative nods to the friendly tour lady who ushers you about with an unwavering look of keen enthusiasm.
The observation deck has a series of informative sections showing you the construction and history of the statue, complete with replica toe, shown here with my 6-foot brother for comparison (and yes, you do have to take off your shoes and carry them around with you). You can also see the Guinness Certificate in case you had your doubts, before moving on to the the beautiful views.
Once you have seen all you can of these, you can proceed down to the World of the Lotus Sanctuary which is a room surrounded by over 3,300 golden buddhas. This is visually disorientating and mesmerizing, and can mean you walk around in circles for a bit. There is a shrine, and those in possession of a shrine book can get it signed here, albeit by a surly teen inexplicably wearing a Man-united shirt (I did say it was bizarre).
Suggested Activity
Narita (NRT) or Haneda (HND) Airport Limousine Bus Transfer
Some cheap luxury to welcome you when you arrive at the aiport in Tokyo. A great option if you have luggage, but don't have the budget for a taxi.
The final stop on this wonderful tour is the World of Gratitude and Thankfulness, where you can practice your calligraphy skills using a traditional brush and ink to copy the Sutra Namu Amida Butsa, which says: 'I take refuge in the Amida Buddha'. (Don't worry though, pale imprints of the sutra are provided to draw over so you can create a beautiful copy and then lie to impress your friends, family, and any stranger who will look).
 Back in the real world:
On your way out, you can opt to donate and get gold-leaf squares which you then stick to the base of the Buddha, which is like an encouraged form of graffiti. You are then free to explore the beautiful gardens which include a pond full of koi so greedy they will practically beach themselves to get food and plenty of picnic spots from which to watch them. A picnic would be a great addition to your day, but there is not much available (vending machines and omiyage do not make for good lunches) so prepare ahead if possible. There is a small petting zoo which is always fun, as well as flower fields where visitors can pick a bunch to take home (cosmos in September and October, poppies in May, peonies and hydrangeas in late May and June). So, between admiring the Buddha, exploring the many specifically named rooms, picnicking and laughing at koi, you have a pretty solid day before the final bus at 4:00pm. I REPEAT: The final bus is at 4:00pm, so don't miss it!
So: With a tip for each thousand tonnes of weight, here's what's best to remember for a trip into the (relatively) unknown Ushiku Daibutsu:
– Check with your bus driver that you are actually on the right bus, then relax and kill time on the journey by playing first-to-spot-the-Buddha!
– Take a picnic and go in warmer weather so you can enjoy the beautiful gardens surrounding the statue (and feed the ridiculous koi).
– Take your time exploring the wonderfully strange rooms and remember your shrine book!
– Don't miss the last bus!
Suggested Activity
Mt Fuji, Hakone & Lake Ashi Cruise with Bullet Train Day Trip from Tokyo
Join a full-day guided tour from Tokyo that travels to Mt Fuji, then continues to nearby Lake Ashi and the Mt Komagatake Ropeway, includes coach out from Tokyo and a Shinkansen Bullet Train trip back.
And one for good luck:
– Learn a few remarkable facts you can reel off to impress anyone you meet, in case you don't have your calligraphy to hand.
April-November: 700 yen December-March: 800 yen
2083 Kunocho, Ushiku, Ibaraki 300-1288, Japan
March to September: Weekdays: 9:30am-4:30pm
Weekends: 9:30am-5pm | October to February: 9:30am-4pm daily