If you could plan a winter escape and condense all of your transport, accommodation and tea-making facilities into one simple van-shaped space, wouldn't life be great? Well, as a small glimmer of joy in the overall chaos of the past year, Dream Drive's Japanese camper vans do just that. Skip all the risks of public transport and moving from hotel to hotel—instead, you can keep your own bubble intact while exploring Japan in winter with this Tokyo to Nagano road trip guide.
By abandoning unfathomable train schedules and unforgiving hotel check-out times, Japan van life leaves you free to explore any strange sights you stumble upon, and it might just become your new obsession. While the YouTube videos of motorhome renovations are tempting and you may well have uttered the phrase "I could build a tiny shelf better than that, Steve!" at 2 am, we all know renting a camper van is a hell of a lot more feasible.
Over at Tokyo start-up Dream Drive, one of the most popular companies for camper van rental in Tokyo with English service, you can choose an RV camper for two to four people and sail off into the sunset with all the gadgets and comfy duvets your heart desires (as well as plenty of well-built tiny shelves). To test the vehicles' winter credentials, four of us climbed into a van and set off—optimistic, croissant-laden, and just happy to be outside.
Japan camper van destination: Nagano
The wintery haven of Nagano is an ideal two- to four-day trip from Tokyo, with snow monkeys, hot springs, art installations and lakeside castles to enjoy along the way. We opted for a relaxed schedule, with one primary sightseeing spot per day and a mix of paid and unpaid parking spots.
Top tips for an RV winter itinerary
Take it from us—we learned the hard way.
Add in some extra drive time. You might find that weather conditions slow you down. Plus it's good to have extra time for unexpected stop-offs along the way.
Aim to reach your campsites before dark. It might feel like you're cutting your days short, but setting up in the dark isn't much fun if you're planning a barbecue dinner.
Check in advance that campsites are open, have space and accept camper vans (not all do). It is also a good idea to have a back-up plan nearby, in case you have access issues or they are full.
Check that vans come with winter tires. You can also attach snow chains if needed. Practice attaching snow chains before you go so you're confident if you do need to use them, and look out for chain-changing spots en route.
Avoid projectiles. Remember to take things off the shelves before you start driving. Larger vans make for larger turns, and the impact of an unsecured water bottle is not to be underestimated.
Additional costs
The camper van does cover most of your major costs such as accommodation and transport, but there are still some things to pay for, such as gas and highway tolls, as well as food and sightseeing.
All in all, our gas and highway tolls added up to a grand total of ¥30,000, which, divided between four of us was pretty reasonable. You can avoid tolled roads to keep costs down a little. Highway tolls are easily paid for using a Dream Drive ETC Card which automatically registers as you go through—you just pay the team at the end of your trip.
Tokyo to Nagano camper van itinerary: There's no fun like scheduled fun
So the highlight of traveling Japan by van is the freedom. If you prefer to just take off and see what you find, by all means enjoy. If you like a rough idea of what to see (and how long it takes to get there), then read on for what we did on our Tokyo to Nagano road trip.
Day 1: Pick up the RV, pick up the pace
For day 1, we suggest keeping your plan light, especially if you're heading into Tokyo to pick up fellow travelers or stopping to stock up on supplies (hello Costco, you vacuum of time and trader of delicious baked goods in unreasonable quantities), which can really eat into your time. Plus, you'll ideally want to reach your campsite while it's still light for easy set-up. If you head to Takasaki in Gunma Prefecture before the campground, it's around 3.5–4 hours of driving, but there's a shorter 2.5-hour direct route (through Kofu) to the campsite.
Camper van pick-up: Quick and easy
The Dream Drive base is a 10-minute walk from the nearest station (Komae on the Odakyu Line), so provided that you don't have too much luggage it's a pretty easy transfer. You need to provide a valid driver's license and can relax in the waiting area while it's checked and copied before getting a tour of the motorhome you've hired.
For Japanese nationals, the license part is pretty simple, but for expats or visitors you'll need a full Japanese license, a valid license from home with an accompanying International Driver's Permit or a SOFA license if you're military.
If you're coming from Switzerland, Germany, France, Belgium, Estonia, Taiwan, Slovenia or Monaco, you'll need your foreign license plus an official translation — which you can order online.
For more info on driving license paperwork in Japan, check our guide to renting a car in Japan—you need to apply for some in your home country, so it's best to know well in advance.
Once you have had your van tour, added any extras (BBQ, furniture, bike racks, etc.) and done a quick damage check around your Japanese version of a Winnebago, you're ready to go! The team will add you on Line or WhatsApp so you can ask any questions and keep them updated with return times too.
1 Chome-8-8 Iwadominami, Komae, Tokyo 201-0005, Japan
10am - 6pm (Mon - Fri) 10am - 12pm (Sat) Closed Sundays
Takasaki's Daruma Temple (2-hour drive)
If you're heading up towards Nagano, a fun stop along the way is Takasaki as one of its temples is famous for Daruma statues. Traditionally used to set goals, the initial doll's eye is marked when you choose your aim, and the second eye filled in when you achieve it. In a New Year's tradition, the dolls are brought to the temple for burning and a new one bought to replace it. The temple has hundreds of Daruma and is an unusual sight especially when covered in snow.
Camping: Gokobokujo Auto Camping Ground at the foot of Mt. Yatsugatake
Having not got our timing quite right, we arrived at the Gokobokujo campsite in utter darkness, but the host stayed around to guide us in. You can choose from the open campground or the forested area, with a little off-roading required for the paths. There are surprisingly nice heated bathrooms in the unpromising shipping containers.
1417 Kawakami, Minamisaku District, Nagano
Day 2: Frosty mornings and lakeside castles
Waking up to frost-covered trees and a decided chill in the air, we made use of the warm bathrooms and set up the stove for much-needed coffee. In daylight, we found the campsite had a beautiful set of ponds and a lodge at the entrance, which we admired as we left. We decided to head to nearby Lake Suwa on the Venus Line—a highway known for great views of the surrounding highlands.
We made a a brief stop at Lake Tateshina for a homemade hot orange cider and some local vegetables for later. We also stopped by one of Japan's much loved michi-no-eki (roadside stations) and found a newly renovated market full of local produce. The Marumero-no-eki has footbaths, bathrooms and so much tempting food you won't know where to start (but we went with apples as they're Nagano's speciality!).
Lake Suwa's shores and castle (1-hour drive)
Lake Suwa is a small resort town set around the largest lake in Nagano. There are a whole host of things to do here, from renting a swan boat to learning about geysers. The four shrines that make up the Suwa Taisha Grand Shrine can be found along the shores, forming one of the most important shrines in Japan. If you park the camping car in the waterside area beside the Lake Suwa Geyser Center, you can enjoy views of the lake from the free footbath (and scream your way through the "relaxing" reflexology path if you fancy it).
Kamikubo 1, Shimosuwa, Suwa District, Nagano Prefecture 393-0052
A few minutes' drive away is the impressive Takashima Castle. Originally built in 1598 on the shoreside, it was torn down in the Meiji era and rebuilt in its current location in 1970 to exisiting designs. There's a small museum inside, and the surrounding park is landscaped, with additional buildings and bridges to admire.
1 Chome-20-1 Takashima, Suwa, Nagano 392-0022, Japan
Monday - Sunday 9:00am–5:00pm
Camping: Miyashita Hills Caravan Park (30-minute drive)
If a place plays classical music in the toilets, you know you're in for a good time. Miyashita Hills is a great camping spot with stunning views, hot showers, nice bathrooms, and a lovely owner who helps out with any last-minute bottle-opener needs.
5101 Wada, Nagawa-cho, Chiisagata-gun, Nagano, 386-0701
Day 3: Monkeys, baths and burgers
After a touch more classical music and a hot shower, we had a full breakfast in the morning sun before heading out. We were heading to the famous snow monkey onsen, even if we were a little early for the snow (two out of thee isn't bad).
Jigokudani's bathing apes* (2-hour drive)
*Technically macaques are monkeys, not apes, but we ask you to temporarily go with us on this for the sake of a mediocre pun.
A visitor favorite, the bathing monkeys of Jigokudani are a Nagano hot spot. The monkeys are wild and there are no fences or cages; however, they are just fed around the baths, so will spend a lot of their time nearby. Watching them—especially the younger ones—swim, stretch and soak is pretty relaxing. Thanks to its secluded location, the park isn't as busy as you may expect, and arriving by camper van makes it a much more practical pit stop rather than a mission by public transport.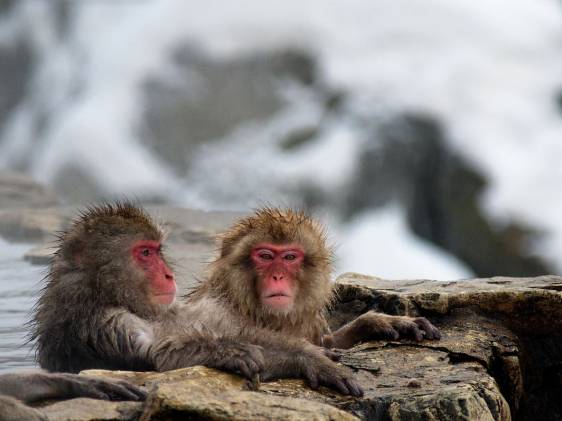 6845 Yamanouchi-machi, Shimotakai-gun, Nagano
Nov.–Mar. Daily 9 a.m. to 4 p.m. | April.–Oct. Daily 8:30 a.m. to 5 p.m.
Adults:

¥

800


Children:

¥

400



Nozawa Onsen for baths and burgers (45-minute drive)
A winding onsen town popular with skiiers, Nozawa has 13 public baths you can use for free (and if watching those monkeys relax doesn't tempt you, nothing will). Dotted around the town, the baths are a mix of old and new, with traditional and renovated buildings. The waters are incredibly hot, however, so be warned. As they are public baths, there are no staff, no rental facilities and no soaps, towels or much of anything, so come prepared.
Having eventually forced ourselves in and out of the scalding water, we emerged lobster-like but certainly feeling clean. As a toddler played happily in the water and his grandmother cooled the water with a traditional stick, we headed back out, ready for dinner.
Genki Burger is an unexpectedly bright and fun place for dinner in the quiet streets of Nozawa. A mix of Japanese and Australian burger inspiration, they have thick patties with kimchi mayo, sriracha slaw, chiptole aioli and their homemade ketchup to choose from, along with coriander-seasoned lotus root and katsu avocado options for the veggies. Add in some loaded fries and a cold drink and you'll be as sated as physically possible.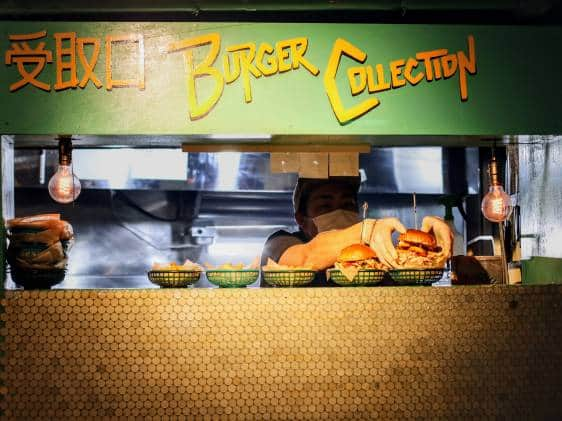 9535, Toyosato, Nozawaonsen, Shimotakai District, Nagano 389-2502, Japan
Monday - Tuesday, Thursday - Sunday 12:00pm–10:00pm | Closed: Wednesday
Camping: A michi-no-eki stopover (1-hour drive)
Since you're already paying for the rental RV, sometimes forking out another 5,000 yen for camping can feel a bit much. Japan's many michi-no-eki—aka roadside stations—are a great alternative. While they aren't exactly scenic, they have shops, toilets and lighting, while some even have hot springs or footbaths. Along with restaurants and convenience stores, it's a pretty practical alternative, and free! We headed out to the Minamiuonuma Rest Area as it was close to our first destination for the following day. This particular rest area has nice toilets, restaurants and a local produce store with all you could possibly need for a night stopover.
Day 4: Tunnels and long travels home
Up early and able to spot the mountains beyond the public toilets, we had ourselves a coffee-based breakfast and headed to our final spot of the trip: a converted tunnel with great views.
Kiyotsu Gorge: Light shows and tunnel raves (20 minutes)
A gorge filled with natural beauty and a tunnel filled with art installations is a pretty weird combination, but somehow it works. From reflective toilet cubicles to mirror-like pools, the Kiyotsu Gorge Tunnel is as unexpected as it is fun. The actual gorge was closed to the public in 1988 due to deadly rockfall, but the tunnel was opened in 1996 as a way to show visitors the beauty of the area. In 2018, MAD Architects and artist Ma Yansong transformed the tunnel, creating light-filled installations to go alongside the open views. After exploring each one, enjoying a mini-rave session (blame 2020) and "perfecting" the reflectional pool jump shot, we dragged ourselves away, finally accepting we had to return to real life.
In an effort to delay as much as possible, we returned to our michi-no-eki of the night for a final soba lunch. Made fresh using local ingredients, these roadside restaurants are a far cry from what we were used to (Burger King, be shamed).
Camper van drop off: Even quicker and easier (3-hour drive)
Heading back to the Dream Drive HQ will take longer than you expect—believe us. Hitting that evening traffic in Tokyo is something to factor in when you plan out the day. Luckily, the handover is super simple: Drop off the keys, do a quick check inside and out, and you're good to go. Returning to real life after van life isn't always fun, but at least it's efficient.