Today, rather than hordes of bloodthirsty samurai, it's selfie-stick wielding tourists that besiege Japan's castles. Not raining arrows but dropped litter that haunts their keepers' dreams. Nevertheless, there's no better window into the Japan of feudal warlords and internecine strife than a trip to one of these fortresses. In and around Tokyo there are plenty to be discovered, and below we present our pick of the five very best.
Matsumoto Castle
Our first entry, although a good two or three hours from Tokyo, is the closest original (i.e. not a cunning replica) castle to the capital and is often cited as one of the countries most impressive. The extra effort, therefore, may well be justified.
Located in Matsumoto, on the edge of the Japanese Alps, the construction of Matsumoto Castle began in 1504, and, after playing host to countless battles and changing hands a number of times, was finally completed in the 1590s, by then under the control of supporters of the eminent daimyo Toyotomi Hideyoshi. Much of the original structure remains to this day—a rarity in Japan.
The castle's tiered keep, or donjon, lacquered in deep black and white, cuts a striking figure against the mountainous backdrop—the centuries not managing to lessen its indomitable appearance. It's the keep's color scheme and its splayed, wing-like ancillary buildings that give it the menacing nickname, The Crow Castle.
Access: To get there from Tokyo, limited express trains from Shinjuku take around 2.5 hours and cost 6,380 yen for an unreserved seat, or, the highway bus takes roughly 3 hours and will set you back 3,500 yen one-way.
Matsumoto Castle (Crow Castle)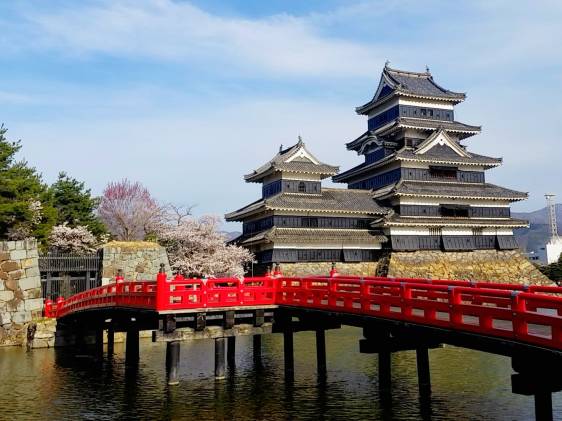 4-1 Marunouchi, Matsumoto, Nagano 390-0873, Japan
Monday - Sunday 8:30am–4:30pm
Hachioji Castle
On June 23rd, 1590, Hachioji Castle, nestled in the mountains that skirt Tokyo, bore witness to a fierce, bloody battle that claimed the lives of over 25,000 people. The castle itself was reduced to rubble, its impregnable reputation shattered forever. For the next 400 years, the site of the massacre would lay undisturbed as a somber reminder of that day.
Suggested Activity
Tsukiji Fish Market Food and Walking Tour
Join this food and walking tour and discover the famous Tsukiji Fish Market. Explore the outer market as you sample the area's highest-quality delicacies and finger foods.
In the 1980s, a team of archaeologists began the task of unearthing what remained of the castle, digging up its extensive foundations to reveal an enormous complex, complete with numerous watchtowers, guardhouses, living quarters and keeps. The whole site is now open to the public, and, thanks to the restorative work, it is now easy to see just how staggering this mountain fortress must once have been—with the help of a little imagination, that is.
The castle's location also helps this along nicely. Set among serene, verdant forest and open fields, rolling back the centuries isn't too much of a stretch for the mind here. It's just one hour from central Tokyo along the Chuo Line, but Hachioji Castle feels a whole lot further away.
Hachioji Castle Ruins
3 Chome-2664ー2 Motohachiojimachi, Hachioji, Tokyo
Odawara Castle
During the Warring States period, it was from Odawara Castle that the Hojo Clan exerted its power over the whole of the Kanto region. Inevitably, this made them a few enemies, meaning the castle was attacked countless times by would-be rulers and cavalier upstarts. The castle held out until 1590 when Toyotomi Hideyoshi surrounded it with a menacing force of 200,000 troops. Eventually, the warrior-general was able to stroll into the fortress unopposed.
Unfortunately, little of the original structure remains today, having been gradually pillaged for building materials since the Meiji Restoration. The main castle keep and several gates have been faithfully restored, however, meaning there's still a lot to keep history-hungry visitors occupied. The brilliant views out over Odawara from the top of the tower are reason enough to visit alone.
Access: From Tokyo, the castle can be reached in around 90 minutes from Shinjuku Station on the Odakyu Line. A one-way ticket costs 880 yen
Odawara Castle
Jonai, Odawara, Kanagawa Prefecture 250-0014, Japan
Tokyo Imperial Palace / Edo Castle
French philosopher Roland Barthes described Tokyo's Imperial Palace as the "empty center" of the city—a huge, unknowable chunk of land off limits to everyone but a family of unseen royals. Certainly true, but don't let that put you off.
Edo Castle was built in 1457, only to be fully completed in 1636 by Tokugawa Iemitsu. For 250 years, the castle was the locus of power for the Tokugawa Shogunate and was appropriately fortified with a looming outer wall, a deep interior moat and numerous heavy gates. These grand feats of defensive engineering are still visible today and act as a reminder of the palace's former life. The moat is especially awing, though now it's primary purpose is far more sedate: a running track for the health-conscious denizens of Marunouchi.
Suggested Activity
Narita (NRT) or Haneda (HND) Airport Limousine Bus Transfer
Some cheap luxury to welcome you when you arrive at the aiport in Tokyo. A great option if you have luggage, but don't have the budget for a taxi.
Following the restoration of Meiji power in 1868, Tokyo became the nation's capital and Edo Castle became the Imperial Palace, home of the Emperor. It remains that way to this day. Tours are available, but generally the Imperial Residence is off-limit to visitors. This doesn't mean there's nothing to see, however, as The Imperial Palace East Garden and Outer Garden are accessible free of charge, all year round. They are fittingly majestic and pocked with remnants of the old castle, which makes them definitely worth a trip.
Access: A few minutes' walk from Tokyo Station
Imperial Palace
1-1 Chiyoda, Chiyoda-ku, Tokyo
Chiba Castle
I'll be honest here, Chiba Castle, or Inohana Castle as it was formerly known, is almost completely artifice. The castle we see today is a modern construction that bares only superficial resemblance to the castle that once stood in its place. That castle, presided over by samurai warlord Tsuneshige, was at one time the most notable in the region, but, ultimately, was unable to weather the ravages of time.
The concrete reconstruction we see today, in fairness, does its job, but it's what's within that is really of interest. Inside, find a museum set over five-stories, telling the tale of the castle's history and that of Chiba more generally. On the first three floors there are arrayed artifacts recovered from the site and various other curios, on the fourth a look at Chiba of the 20th century and on the top floor an observatory. It's not the most extensive museum but with entry set at 60 yen, you won't be complaining.
Access: The castle is a 10-minute walk from Hon-Chiba Station on the Sobu Line. Getting there from Shinjuku Station will cost you just under 1,000 yen.
Chiba Castle (Chiba City Folk Museum)
1-chome 6-1 Inohana, Chuo-ku, Chiba-shi, Chiba-ken