Tokyo is a city where no matter your interest, no matter how obscure the subculture or niche your passion, you're sure to find businesses that cater to what you're after. And when it comes to accommodation, the situation is no different. Although booking an Airbnb or vacation rental in Tokyo has gotten trickier given the country's tightening of accommodation regulations, rest assured that there are plenty of options out there and many budget-friendly choices too. So if you're hunting a hotel that's an experience in itself, here is a round-up of unique and unusual accommodation in Tokyo to get you started.
Dream Drive camper vans
With plenty of incredible natural diversity and safe roads, exploring Japan by car is one of the best ways to see a side of the country many travelers miss. If you're on the hunt for the ultimate in freedom—and some budget-friendly accommodation too—getting around by camper van is a criminally underrated option.
Japan also has an incredible selection of roadside stops (known as michi no eki) that are worlds better than your standard truck stop. Most feature excellent local food, snacks galore, and some even have a public bath (onsen/sento), making a stationary accommodation practically obsolete.
When it comes to traveler-friendly camper van rental in Tokyo, you can't look beyond Dream Drive. Run by a team of passionate Japanese and international camper van enthusiasts, Dream Drive is without question the most simple and hassle-free way to rent one. The company builds custom Japanese camper vans of all sizes, from small two-person set-ups not much bigger than a sedan to fully fledged family-sized affairs with space to prep food and eat.
Check out guides on a winter camper van adventure in Nagano or a summertime roadtrip to Shimoda.
Luxury hostels
Luxury and hostel don't often go hand in hand—but they do in Tokyo. If you're traveling on a budget but don't want to sacrifice in the style department, we've also got a comprehensive selection of excellent luxury hostels and unique hostels in Tokyo that have well and truly raised the bar when it comes to budget accommodation. Here, the hostel is more synonymous with artful lifestyle design and contemporary social living quarters than cramped rooms and questionable cleanliness. This is modern backpacking/budget traveling elevated. Many of these locations also double as communal cafes, open to all visitors, and make wonderful meeting/coworking spaces.
Love hotels
Love hotels are synonymous with late Tokyo nights and secretive intimate escapes. They are essentially hotels you can rent on an hourly basis. As the name suggests, love hotels are often used by couples (or three, or four, who are we to count) looking for a little private time. While they may sound sleazy, when you're living in a city as densely populated as Tokyo where it's not uncommon for multi-generational families to live under the same roof, these hotels welcome a wide variety of patrons. In general, they're clean, discreet and, if you play your cards right, budget-friendly options. Also, they're garishly spectacular when it comes to design (think mirrored ceilings, jacuzzi tubs, and complimentary flavored condoms), promising an unforgettable Japan-after-dark experience.
Given how discreet love hotels can be, sometimes it's difficult to know exactly what you're in for until you're literally in the room. For most, it doesn't matter, given that they're preoccupied with what's about to happen in said room, but we've gone to the liberty of searching through Happy Hotel, the most comprehensive love hotel directory, to hunt down some highlights. The site is in Japanese only, but with a little Google Translate and a detailed photo slideshow, these few might offer some inspiration.
A little slice of paradise: Hotel Petit Bali
Hotel Petit Bali Shin Okubo is a southeast Asian holiday-themed hotel. It's part of a larger chain of similar hotels dotted throughout the city, so if you're not in Shin-Okubo, but one of the city's other major business hubs (Shinjuku, Shibuya), chances are you'll find an outpost there too. Apart from its close- to-authentic Bali theme, one of the features worth highlighting is that this hotel promotes itself as an LGBT+ friendly hotel, which not all love hotels are. So if you are part of the LGBT+ community or want to support a hotel that supports all types of folks enjoying their evening, this is it.
You can rent a room for an overnight stay or by the hour. Prices vary a lot depending on the time of day and day of the week.
A splash of color: Hotel Colorful
Hotel Colourful's name is not a lie—this hotel is incredibly colorful. The establishment is home to six types of rooms, from single, block-colored spaces to multi-colored Tetris-esque rooms. It's a lot visually, but hey, with its colorful exterior, you won't miss this hotel, nestled in the brightly lit surroundings of Shinjuku. It also offers different stay packages, with prices depending on the room and how long you need it for (generally between ¥5,500 and ¥18,700.
A little slice of Europe: Hotel Paris
Unintentionally retro-kitsch is probably the best way to explain Hotel Paris, a Shibuya love hotel staple. This love hotel has a variety of themed rooms. Some are more romantic, while others, like the room decked out with phallic mushroom creatures are a little more out there. You can stay for the night or just a few hours. Prices sit between 4,300 yen and 111,500 yen depending on how long you stay and what day you decide to spend a night in Hotel Paris.
Hotels
Getting "weird" at Henn-na hotel
One name synonymous with unique/bizarre hotels in Tokyo is Henn-na Hotel. The chain has a number of outlets scattered across the country, with a few also located in some of Tokyo's most central neighborhoods like the ones in Ginza and Nishikasai (near Tokyo Disney). In English, this hotel's name translates to "weird hotel", but just what makes this hotel so weird? Well, we don't want to ruin all the surprises, but let's just say it's a great way to meet some friendly human and dinosaur robots.
Live in art at BnA Wall
BnA Wall is one of the newest additions to the BnA family, a hotel collective with a pretty interesting concept. The hotel works with artists from all over Japan, recruiting them to conceptualize and design the hotel's rooms in their signature style. What's even better is that every time a guest stays in one of BnA's art rooms, the artist receives a commission of the hotel rate. That means your stay goes directly to help support Japan's art community. BnA currently has a number of outposts, both in Tokyo (Koenji and Akihabara) and Kyoto, but BnA Wall in Nihombashi is one of the most exciting. It features 26 original art rooms created by 14, as well as a cafe, bar, and mural wall showcasing a rotating roster of works.
Hotel K5 for a bank holiday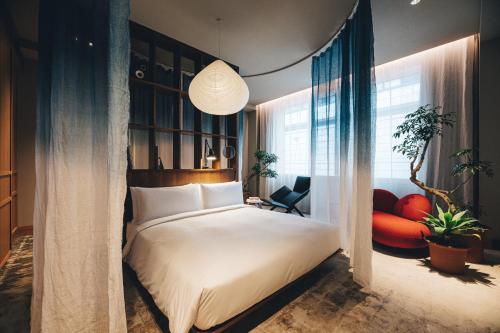 The east Tokyo area was once relegated to being a neighborhood of monochromatically dressed salarymen and women, but in recent times, it's become a hotbed of culture, hip new establishments, and exciting cultural evolution. Hotel K5 is part of the latter group, with a little of the former thrown in for good measure. This elegant lifestyle hotel was once the home of the 1920s Daiichi Bank, and the exterior clearly exudes that imposing importance with its high concrete walls and thick European architecture.
Stockholm-based architecture and design practice Claesson Koivisto Rune, however, has redesigned the interior, turning the space into light-filled and foliage-flanked wonderland with Scandinavian-Japanese finishes. Even though there aren't any robots, its novel history and modern sophistication offer the best of both worlds.
DDD – All business
In Bakurocho, not too far from K5, is another member of the aforementioned family of new establishments shaking things up in this business district. Honestly, from the outside, DDD doesn't look like a lot; you'd be forgiven for thinking it looks a lot like a business hotel, and that's because it was. Today it's a far cry from the establishment that used to service salarymen who'd visit east Tokyo for work. In 2016, this family-owned business hotel, under the guidance of current generation owner Yuta Takeda, had a makeover. Today, with its sleek modern interiors and renovated and redesigned rooms, it's an elegant minimalist lifestyle hotel, complete with boutique cafe space and restaurant Abno. Both business and pleasure.
Bike & Bed — Entire home for big groups or cycling enthusiasts
Mad for cycling? Or just looking for a space big enough to fit a crew of people with a bit of personality? Then Bike & Bed in east Tokyo is a top choice. While it looks like a hostel, this house can be rented out for private groups, and with 160 square meters of space in a city where space is a commodity, it's a no brainer. This ruggedly cool warehouse-esque space features seven spacious bedrooms, high industrial ceilings, and designer interior. It features five rooms and can sleep up to nine people, with the rooms located on the second floor, and the open bar/kitchen/living and projector room on the first floor. It's perfect for families and big groups, and ideally positioned not far from Nippori, one of Tokyo's most charming downtown neighborhoods.