When we think of Tokyo apartments, the first image that springs to mind is cramped living quarters. In reality, the city's real estate scene has a lot to offer. In the city center, on the outskirts and near Tokyo's main airports, here's a selection of excellent Tokyo Airbnb-style vacation rentals and apartments for your next visit.
Pro tip: Looking for something different? Check out these unusual accommodation options in Tokyo.
Jump to:
Note: These Tokyo vacation and apartment rental listings are presented in no particular order.
Central Tokyo vacation rentals
Shibuya
Just a three-minute walk from Shibuya Crossing, it doesn't get much more central than this budget friendly one-bed, two-person apartment. QCQC Studio #501 comes with a washing machine, kitchenette, including kettle and microwave, and a compact balcony. While the room is stylishly minimalist, it means you have more space to store your gear while you're out and about, making the most of what central Shibuya and beyond has to offer.
See prices.
Shinjuku
Offering both the excitement of the neon-lit streets of Shinjuku with the tranquil ambience of Shinjuku Gyoen, this easy one-bedroom apartment is an excellent choice for those who don't want to sacrifice location for budget. In terms of amenities, it has everything you need for a longer-term stay, including a kitchenette, washing machine, and enough sleeping space for up to four people (double bed and sofa bed). Live like a local in one of the city's most bustling neighborhoods. See prices.
Roppongi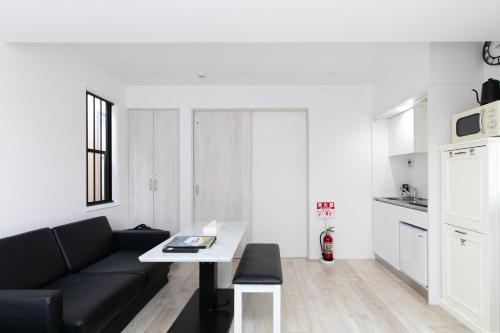 If you're chasing the EDM nightlife, then there's a pretty high chance you know about Roppongi, the city's slightly seedier, more international pocket. By day, the area is an excellent spot for fine dining and gallery hopping, giving you a taste of both sides of this more ex-pat populated neighborhood. Villa Roppongi offers a stylish four-person apartment combines modern minimalism with all the amenities you'll need for your stay, like a washing machine, kitchenette, microwave, kettle and more. With options for two bunk beds or two double beds, it's probably best suited for a small group of travelers—perfect for a party crew in Roppongi. See prices.
Shimokitazawa
In recent times, Shimokitazawa has become a popular neighborhood for those who want to experience the more 'local' side of the city. Home to in-vogue cafes, vintage stores, and young, hip residents, it's also ideally positioned just a few stops from Shibuya. This cozy two-bed apartment is situated in the central shopping district of Shimokitazawa, with easy access to supermarkets, convenience stores, restaurants, and everything the area has to offer. With an open-plan kitchen/dining/bedroom area, it makes the most of the space it does have to ensure you'll have a comfortable stay. See prices.
Asakusa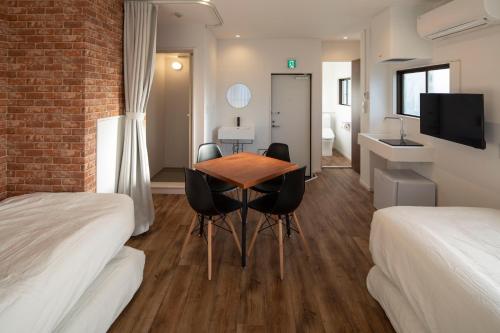 Home to Sensoji Temple and not far from the Sumida River, Asakusa is one of the city's most well-trodden tourist trafficked neighborhoods, but that's not necessarily a bad thing. In fact, there are plenty of reasons this area's so popular, and the best way to uncover those reasons is by staying in and exploring the area in more depth. Modern and elegantly furnished, this four-person capacity room at Hotel Little Bird has everything you'll need for a comfortable stay, and with easy access to Hibiya Station and the central Asakusa area, it's a hassle-free choice. See prices.
Shinagawa
If you're looking for the ideal balance of centrality and easy access to Haneda Airport, the city's main domestic airport (which, yes, also has international flights), then this sparkling new apartment located in the Shinagawa/Bay area is the best of both worlds. Maison Philippe is best suited to a couple, but can accommodate up to three guests, it's airy, light filled and the perfect place to escape to after a long day exploring the city. See prices.
Vacation rentals near Tokyo Disneyland/DisneySea
Coming to Tokyo Disney for that once-in-a-lifetime Mickey experience? We've picked out some of the best hotels in the areas near Tokyo Disneyland and Tokyo DisneySea, but if you want a slightly more homey experience, rest assured there are plenty of Airbnb options in the area as well.
Family retreat minutes from Tokyo Disneyland
Planning a family adventure to Tokyo Disneyland or DisneySea and want something close, convenient and spacious enough to sleep a crew of 14? Then this house situated less than 10 minutes from Tokyo Bay and 3 minutes to Tokyo DisneySea is a failsafe option. With three bedrooms, four bathrooms, and a full-sized kitchen, it's the ideal family retreat conveniently located outside the center of the city. See prices.
Disney on a budget
A three-minute walk to Kasai Station, a 20-minute direct bus to Tokyo Disney Resort, and easy bus access to both Haneda and Narita Airports, this spacious one-bedroom apartment scores high points when it comes to transport convenience. With a fully stocked kitchenette, fridge, and all the other basics you'd expect from a self-service apartment rental, SG Premium Kasai ticks the boxes while staying within budget. See prices.
Apartments near Tokyo's airports
Near Haneda Airport
Booking a late-night flight into Tokyo, or an early one out from Haneda Airport, and just need somewhere clean, comfortable and convenient to stay? Then this two-bed hotel apartment is an easy choice. M-1 Toyko Haneda is not so fancy by any means, but it's just minutes away from Haneda International Airport via the Keikyu Airport Line. See prices.
Near Narita Airport
An easy, dorm-style option with private bathroom just a 10-minute walk from the east exit of Keisei Narita Station and a 10-minute train ride to Narita International Airport, Daruma Guesthouse Narita is a super convenient location to crash for the night before or on a big flight. It features one bunk bed and one loft bed and very basic furnishings, so you'll have more space to store your luggage. It may be a little emptier than most, but it has what you need at a budget-friendly price point. See prices.
For big groups
Ueno apartment for 10
With four bedrooms and the capacity to sleep up to 10 people, Tora Hotel Taito A offers a centrally located, breezy apartment in Ueno that's the perfect big-group option. With a kitchen, fridge, bathroom, communal dining area, and plenty of natural light, it should be a top pick for groups of friends or bigger families who want to make the most of their time in the city. See prices.
Skytree adjacent for 8
It's not that common to find such a spacious apartment in central Tokyo, but this place, less than a 10-minute walk from Skytree, is a great find. Repos has room for eight people spread across four double beds, a living area and a decent-sized kitchen. It's only a few minutes from Oshiage Station, which services several different train lines to get you zipping across the city. See prices.
Chiba beach house for 15
Technically this private villa is in Chiba, not Tokyo. Still, it's just a day trip away and the perfect vacation-style rental if you're traveling as a bigger group and want to escape the city's hectic energy for just a little while. This four-bedroom 15-person capacity house comes with a jacuzzi, spacious backyard, BBQ deck, playroom with a pool table, projector, and darts set up. It's also just minutes from the beach. See prices.
For a more traditional stay
Modern ryokan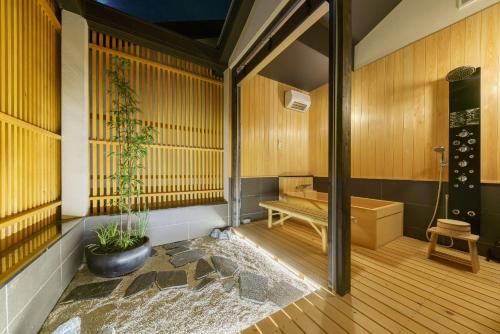 Situated in the traditional area of Asakusa is where you'll find this traditionally nspired one-bedroom apartment. The interior blends both classic ryokan style with modern comforts offering the best of both worlds. It feels new and fresh while maintaining a sense of timelessness. The best bit too? It comes complete with an outdoor bath. See prices.
Traditional chic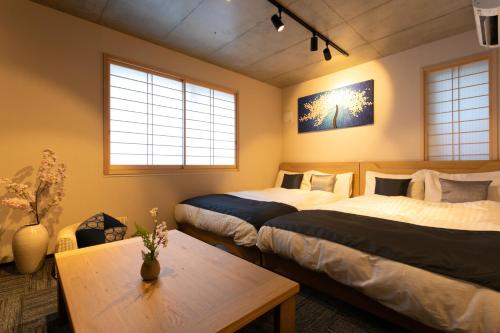 This one-bedroom apartment is also relatively new, having been constructed in late 2019. Sakura Stay Otorii's elegant interior design is effortlessly chic with traditional Japanese motifs (think sliding paper-covered windows and light wooden finishes) with minimalistic modern taste. It's cozy but don't at all feel cramped. Located not far from Haneda Airport, it's great for those who prioritize comfort and convenience without wanting to sacrifice style. See prices.
I've heard things changed with Airbnb in Tokyo. What's the Minpaku Law?
The Minpaku homesharing law passed in 2017 and was aimed at providing a legal framework for the private-sector accommodation market. Since Japan was apparently in dire need of rooms for the upcoming 2021 Olympics, it was expected that the law would make it easier for short-term rentals to operate—but it did add quite a few more hoops that prospective Airbnb hosts needed to jump through.
Property owners who wished to continue operating were required to submit lengthy and complex registration documents which involve a series of potential barriers. Landlord permission, on-site inspections and strict health and safety requirements are just some of the requirements for approval which, if granted, results in a registration number. Always check that your rental has that number!
For more cheapo-approved sleeping options, see our comprehensive Tokyo accommodation guide.
Are you an Airbnb host? Check out our very own Air Kitty for promoting your Airbnb listing.