Jutting out to the south of Fuji Hakone National Park sits the Izu Peninsula in Shizuoka Prefecture. It's a popular getaway for locals and gaining attention from international travelers looking for a beachy escape that's not as popular as Kamakura or Enoshima but within reasonable traveling distance from Tokyo. Izu Peninsula is a diverse landscape, home to plenty of resorts to the north, old-world ryokans, mountains down the middle, pristine beaches to the south, and wild coastlines to the west.

If you have the time, it's a great idea to start your Izu adventure from the north in the cities of Atami or Ito and make your way clockwise, traveling all the way around to the west. If you don't have the time, though, it's best to stick to a particular region. Each corner of Izu has its own specialty and distinct landscape, so here's a quick rundown of the peninsula, its best beaches, hiking trails, attractions, and how to get there.
Northern Izu: Hot springs, seaside attractions, volcanoes and cacti
Major areas: Atami and Ito
When we talk about northern Izu here, we're talking about the geographic area between Atami and Ito, with the town of Izu fitting in there too. This is the closest part of the peninsula to Tokyo-based folk and the most accessible part, as its most popular sights don't require too much mountain driving.
Suggested Activity
Experience the Traditional Art of Kintsugi
Looking for a totally different experience? Then why not try a kintsugi class in Tokyo? Kintsugi is the revered Japanese art of repairing old pottery. In this one-hour kintsugi workshop, you'll learn the delicate art of gold repair, and create your own unique souvenir to take home. You'll even dress in samue, the outfit traditionally worn by craftsmen. ...
Atami
Atami, a coastal hot spring town, has long been a popular weekend destination for city dwellers and a popular beach spot for families. It's great for those who want to feel like they're far enough out of the city, without traveling too far because via the Tokaido-Sanyo Shinkansen, it's just a 45-minute trip from Tokyo Station (by car it's a little over 2 hours).
Atami was once—during the '80s bubble era—a hugely popular place for city workers and companies looking for retreat destinations. Around this time, the development of the ryokan and wider accommodation industry in the area was in its heyday, and you can still see in the city's timestamped architecture.
Atami Sun Beach is the town's most famous beach, and it sits within walking distance from the train station. It's a 400-meter long resort-style beach backdropped by the holiday apartments, resorts, and hotels that populate this part of the area. If you're looking for a beach that, in terms of appearance, is more beautiful than Kamakura's beaches, but you don't want to go too far, this ticks all the boxes.
As a rainy-day tip, the MOA Museum of Art is an excellent museum showcasing a broad selection of art and offering wonderful ocean views.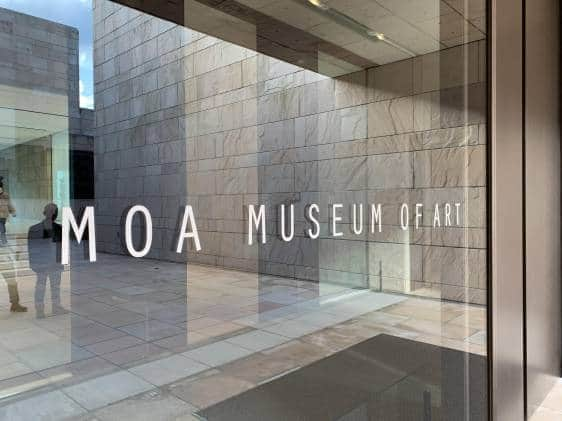 26-2 Momoyamacho, Atami, Shizuoka
9:30 a.m to 4:30 p.m. Mon- Wed; Fri- Sun | Closed: Thurs
Adults:

¥

1,600


High School students:

¥

1,000


Middle School students: Free
Elementary School students: Free
Seniors: Free
Seniors:

¥

1,400



Ito
Ito is the other key north Izu destination, and like Atami, the area is a popular for its onsen. It's a little farther south, still on the east coast, and arguably more picturesque as it's retained much of its traditional architecture (rather than resorts). One such example is Tokaikan, a historic former ryokan that's now open to the public as a history museum.
12-10 Higashimatsubaracho, Itō, Shizuoka 414-0022, Japan
Monday - Sunday 9:00am-9:00pm | Closed every third Tuesday of the month
Adults:

¥

200


Children:

¥

100



There are plenty of excellent ryokan located in Ito; K's House Ito hostel ryokan is a worthy mention, especially for backpackers and travelers on a budget. In this area is Ito River, a scenic little canal-like river lined with lovely old ryokan-style buildings. Follow the river, and you'll get to the city's main beach, Ito Orange Beach.
4 Yukawa, Itō, Shizuoka 414-0002, Japan
Ito is also ideally positioned just north of the Jogasaki Coast, one of the peninsula's most unique natural features. There's also a 10 km hiking trail that runs along this uniquely shaped, jagged coastline. There are, however, opportunities to just do parts of the trail, which also has a lighthouse and an impressive 48-meter-long suspension bridge.
Ito is a great place to set up a home base as it's not far from other popular tourist sights like Mount Omuro, the lush green-covered (now-extinct) volcano; the Izu Kogen Stained Glass Museum; a cat museum farther down south; and a cactus park at Izu Shaboten Zoo.
Eastern Izu: Coastal views, waterfalls, and mountains
Major areas: Higashi Izu, Mount Amagi
Traveling further down south, you'll start to hit some of Izu's more untamed pockets, like eastern Izu. While Ito and Atami are also technically east Izu, we're talking here about the areas farther down south. If you're after remote adventures, this is an excellent area to choose from, away from the holidaying families.
In terms of beaches, Atagawa You Yu Beach is the main beach, and it's easily reached on foot from Izu-Atagawa Station if you're getting around by train. However, this part of the peninsula is better for those who like trekking and hiking over watersports. Inatori Hosono Kogen is a mountain plateau located farther inland—15 minutes by taxi from Izu-Inatori Station. From the top, you can get some pretty spectacular sweeping views of the area, including the ocean. It's also well known for being home to a unique selection of wild plants.
Suggested Activity
Tsukiji Fish Market Food and Walking Tour
Join this food and walking tour and discover the famous Tsukiji Fish Market. Explore the outer market as you sample the area's highest-quality delicacies and finger foods.
Naramoto, Higashiizu, Kamo District, Shizuoka 413-0302, Japan
Farther inland still, and you'll reach the town of Kawazu, home to Kawazu Seven Waterfalls, which, as the name suggests, is a cluster of seven waterfalls ranging from 2 m to 30 m tall. Here, you'll also find a scenic little hiking/walking path lined with cherry trees, making it a popular spot during sakura season in the spring. The path is only 2 km long, making it doable for most hiking levels. If you want to experience the best of both sides of Izu, consider combining some time here with some time in southern Izu.
Southern Izu: Beautiful beaches, historic towns
Major areas: Minamiizu, Perry Road
Although Atami and Ito get most of the attention when it comes to beachside attractions in Izu, it's no secret to locals and regular visitors that southern Izu's beaches are the best.
Getting to southern Izu
The area isn't the easiest to access by car. You have two main options if traveling from Tokyo: a mountainous three-hour journey through the middle of the peninsula or a slightly less mountainous 3.5-hour journey along the eastern coast.
By train, it's around the same, with transfers needed in Atami and usually Izu-Kogen.
Its distance from the city by Japanese standards of travel strikes it off the "Tokyo day trip list", that's not necessarily a bad thing because if you're going to visit, you might as well put aside a minimum of two nights (three days) to see it all.
Shimoda
Southern Izu's two main highlights are Shimoda and the beaches of Minami Izu. Shimoda is a scenic coastal city and a historical landmark. It's here in 1854 that Commodore Perry's black ships arrived, ending the country's era of isolation and marking the beginning of Japan and the US's diplomatic relationship. You can learn more about the political history of the town with a visit to Perry Street and MoBS The Museum of Black Ship. The area around Perry Road—including the road itself—is a delightful taste of old-world coastal Japan. You'll find historic houses lining the town's Inouzawa River, many of which are home to cute cafes and restaurants. It's well worth putting aside half a day just to explore this area on foot.
See our full guide to exploring the Shimoda Coast by camper can.
Beaches
The beaches of this region are possibly the nicest beaches within a 3–4 hour (by car) proximity to Tokyo. They're scenic, clean, and often not as crowded as, say, Atami or Ito's beaches.
Shirahama Beach is probably the most well-known beach, and it's the most accessible. It's also worth a visit if you like the convenience of having a convenience store across the road. Shirahama does get a little crowded on weekends and during holidays, though, so don't expect to have it all to yourself. For the area's best beaches, head a little farther south and you'll eventually get to the best beaches.
Nabetahama Beach is a personal favorite, flanked by lush-green cliffs, and with super clear water, this cozy cove-type beach is a great place to spend an afternoon or even full-day swimming and relaxing either on the sand or setting up a little day camp on the rocky shoreline. Behind the beach are some eateries too.
Maiiso Beach is another great option, a little farther along the coast. It's expansive, and the water quality is great.
Kisami, Shimoda, Shizuoka 415-0028, Japan
Hirizo Beach is rocky, not sandy, but it's excellent for snorkeling, with its unique aquatic landscape and vibrant marine life. Like Hirizo, Ounohama Beach is also rocky but worth a visit if you're looking for something different.
If you have the means, planning some time to just drive along the coast of southern Izu is an activity worth considering as the views of the green-topped cliff faces and small rocky islands that occupy the coast are beautiful, the Irozaki Cape area is a great place to take it all in.
Western Izu: Cliffs
Highlight: Dogashima Cave Tour
The most untouched area of all four directions of Izu would have to be the western side, Nishi Izu. That's not to say the area doesn't have anything going for it, but it is best saved for those with the time to spend who are looking to explore areas that haven't been so heavily traversed by visitors. Western Izu is also excellent for road tripping, is not very sandy or beachy, but it does have some pretty spectacular views, like Kumomi Shore's clear rocky cave coast, from which on a clear day you can see views of Mount Fuji.
One of the best ways to see the scenery here is by joining a tour along the Dogashima Coast, where you'll witness up close the spectacular blue water and smoothly ocean-eroded rocks and cliffs that dot the area. Head farther north along this coast, and you'll come to Mihama Beach, a small and cute beach with incredibly clear water and often not too many other folks. A little farther inland, there's also the West Izu Skyline, a walking path with panoramic views of the area.
How to get to Izu Peninsula
How to get to Izu really depends on what area you want to explore, however as a general rule, Atami is essentially the gateway to the region.
By train: From Tokyo, the best way to get there is to take the Tokaido-Sanyo Shinkansen Hikari Okayama from either Tokyo or Shinagawa Station direct to Atami Station. The journey takes about 50 minutes (¥4,640 from Tokyo Station).
By car: From Tokyo to Atami, it's about an 1 hour 45 minutes to 2 hours on the toll roads.