Packed with interesting cultural and historical sights, not so packed with tourists. If you're looking for a relaxed overnight getaway, Otsuki and Tsuru in nearby Yamanashi Prefecture are a great choice.
What to do in Otsuki and Tsuru
While it's not exactly a high-octane thrill ride, the area is perfect for some traditional sightseeing. Enjoy the views, take a few snaps and grab a bite to eat at one of the sleepy rural cafes and restaurants that surround each tourist spot. While the spots below are sorted into a rough route (Otsuki then Tsuru), they're all close enough that you could change them up, reverse them or drop a few and go totally off the beaten track.
Saruhashi
Translated as "monkey bridge", Saruhashi is a great place to start your tour of the area. One of Japan's three strange and unusual bridges, this unique installation surveys the spectacular rocky cliffs and clear waters below. Its history goes back as far as the 7th century, and the odd architectural style was apparently inspired by an improbable group of monkeys linking up to create a bridge (the genesis stories vary, but this one is our favorite). Naturally it's been rebuilt many times since then—even now the wood requires replacing every few decades.
Suggested Activity
Narita (NRT) or Haneda (HND) Airport Limousine Bus Transfer
Some cheap luxury to welcome you when you arrive at the aiport in Tokyo. A great option if you have luggage, but don't have the budget for a taxi.
The view from below the bridge was immortalized in a famous ukiyo-e painting by Hiroshige. What's nicer is the view with the bridge which can been seen from an excursion boat.
Mt. Iwadono
The rather impressive looking Mt. Iwadono is actually a gentle hike, and only takes around 45 minutes to summit. The mountain is best known for its views of Mt. Fuji, which on a clear day are hard to beat. Alas, a clear view of Fuji is a rare beast, so don't come expecting it. If you do strike lucky, there's a garden and viewing area halfway up the mountain, as well as a replica castle, which houses especially impressive photographs of Fuji.
If you're not an avid hiker, you can stop here, enjoy the view and head back down—nobody will be any the wiser. A little trivia to impress any friends or wildlife you meet on the mountain: at 634 m, it happens to be the same height as Tokyo Skytree. Fortunately, it's a lot less crowded.
Taro Jiro Falls
This twin pair of waterfalls is nestled snugly in a small, lush valley not far from the road. The high surrounding cliffs and the sound of running water serve to isolate you from the outside world, making this a magical spot for a picnic lunch if the weather is good.
The name is just as interesting as the view. Allegedly, the brothers Taro and Jiro were historical outlaws—a pair of thugs operating in the area. Law enforcement eventually caught up with them here, and rather than be captured, the two jumped to their deaths. As a rather macabre reminder of the time they effectively murdered two men, locals renamed the two waterspouts: Taro and Jiro.
Choukeiji Temple spring water
The small water garden area at Choukeiji Temple is a ten-minute walk away from the falls, and has been dubbed one of Japan's 100 famous water sources (yes, that's a thing). Supposedly the water is good for your eyes, but obviously rubbing raw water on your eyeballs is a super bad idea. There's also a stream of spring water spouting from a tree trunk, which I'm told is drinkable. I can say with great certainty that I didn't die after drinking it. There's not a lot to do other than visit a few shrines, take your chances with the spring water, relax and take in the scenery, but it's worth a look while you're in the area.
Yamanashi Prefectural Maglev Exhibition Center
While it lacks the natural appeal of the other spots, rail fans and families with kids may appreciate the Maglev Exhibition Center. This region houses the testing grounds for Japan's next step in high-speed travel—levitating, magnetically powered trains. Scheduled for use between Tokyo and Nagoya by 2027, the trains have attracted criticism for their high development costs, owing largely to the need to tunnel through huge amounts of dense mountain rock.
This expo center is decidedly less controversial, and mostly consists of educational magnet- and superconductor-related activities. Highlights include a decommissioned prototype train, a tiny one-person maglev you can ride in, and a sizeable model replica of the region, replete with trains, roadways and warring villagers. If you're lucky, there's a window through which you can occasionally see the current prototype whizzing past at record speed.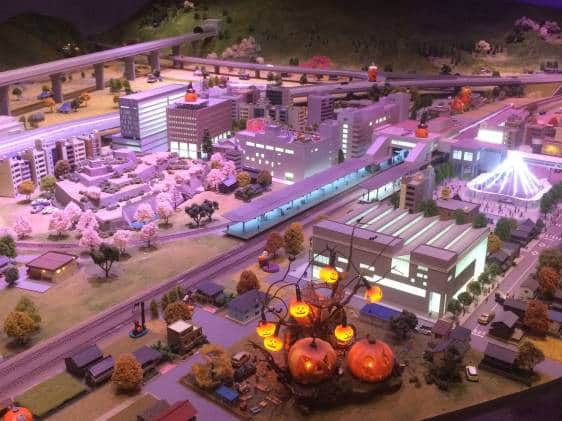 2381 Ogatayama, Tsuru, Yamanashi 402-0006, Japan
Monday - Sunday 9:00am–5:30pm
Adults:

¥

420


High School students:

¥

310


Elementary School students:

¥

200



Where to stay
There are plenty of quirky cabins, lodges and guesthouses in the area to spend the night in—often extremely cheaply. If you're interested in a slightly livelier night, Tsuru, as a university city, has a reputation as the livelier place to go. Which isn't saying much if you're used to one of Japan's bigger cities—as best I can tell you won't find any clubs. You can mostly expect to find low-key izakaya and snack bars (the former will be easier on your wallet).
Getting there
It's possible to get around by public transport, generally starting with the Chuo Line Limited express from Shinjuku toward Otsuki Station. From there you'll need to take a mixture of local trains and buses to get around. That can either be straightforward or a real pain depending on your current location, destination and time of day. If you have the option (and you're a confident driver), you're much better off renting a car, which will free you up to go where and when you want. What's more, you're actually likely to save money if going as a group of two or more.
Suggested Activity
Experience the Traditional Art of Kintsugi
Looking for a totally different experience? Then why not try a kintsugi class in Tokyo? Kintsugi is the revered Japanese art of repairing old pottery. In this one-hour kintsugi workshop, you'll learn the delicate art of gold repair, and create your own unique souvenir to take home. You'll even dress in samue, the outfit traditionally worn by craftsmen. ...
For more adventures, check out our mega guide to Tokyo day trips.
This post was originally published in December 2018. Last updated: August 25, 2021.