This Tokyo events weekly round-up is out of date! The latest one is
here
.
Tokyo events for Monday, February 13 to Sunday, February 19, 2023.
Love is in the air this week. We show you the main things to do on Valentine's Day — spoiler: it includes chocolate ramen — as well as the latest early spring flower festivals.
Super Bowl 2023: Where to Watch
Whether you care about the outcome of the Chiefs vs the Eagles or you're just sticking around for the commercials and half-time show (Rihanna!), then you might want to know where and how you can watch the game this Monday, February 13 at 8:30 a.m. (JST).
Super Bowl 2023: Where to Watch
Kite Market
The second part of the annual Kite Market will commence on February 17. Back in the Edo days, kites were considered lucky charms that help ward off fires, which were rampant at that time. Since then, a Kite Market — where kites are displayed and sold — has been held annually on the Days of the Horse.
Kite Market
Mukōjima-Hyakkaen Garden Plum Festival
Plum festivals in Tokyo come not only with flowers but also with traditional dancing, shows, and ceremonies. The plum festival at Mukojima-Hyakkaen Garden is no different and will have many things to see and do throughout the plum season.
Take a look at all the other festivals on offer in our dedicated plum blossom article.
Mukōjima-Hyakkaen Garden Plum Festival
At the door: ¥150
At the door: ¥70
Kawazu Cherry Blossom Festival
Take a day trip to Kawazu Town in Shizuoka Prefecture and get your fill of early-blooming cherry blossoms. To celebrate the blooming of the flower, the town of Kawazu in Izu Prefecture will hold a festival, but this is usually just an opportunity to walk along the town's river and marvel at the many blooming cherry trees.
There will also be nighttime illuminations from 6 p.m. to 9 p.m. Don't get this festival confused with the Miura-kaigan Festival and the Matsuda Festival.
Kawazu Cherry Blossom Festival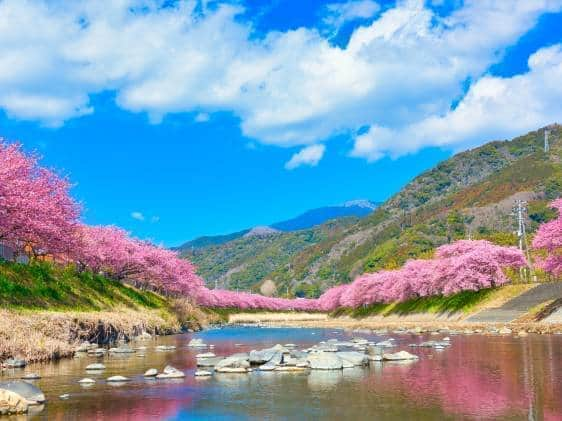 Early
Feb
~
Early
Mar
2024
The 16th Cat Festival in Yushima
If you are feeling feline, this popular event held twice a year sees the district of Yushima in Bunkyo Ward comes alive with furry fun — the family-friendly kind. There will be talks about cats, a shrine celebrating cats, exhibitions with cat trinkets, and local restaurants and shops will also participate in the cat madness.
Feb. 15–Mar. 19
Yushima District, Bunkyo-ku
Free
Official website
Sugita Plum Blossom Festival
10 minutes on foot from either Sugita Station
There used to be 36,000 plum trees in the Sugita area of Yokohama. While that is no longer the case, there are still plenty of trees — more than 100 — left to view. There will be traditional dancing, music, and other performances. This is only the second year of the festival and the first time it will be held in person.
Feb. 18–19
Myohoji Temple, Yokohama
Free
Official website
Valentine's Day
Marketing ploy or not, it is still the "most romantic day of the year". So if you don't have any previous plans, why not visit the last of the illuminations, sample some chocolate ramen, visit some flower festivals, and more.
Read more about what to do in our Valentine's Day article.
Ask our local experts about Tokyo
Get our Tokyo Cheapo Hacks direct to your inbox
Popular Posts From Tokyo Cheapo
Popular Posts From The Cheapo Network