Discovered by a monk (as legend has it), Nozawa Onsen combines the two best Japanese winter pastimes — snowy skiing and warming onsen.
The winter sports/hot spring paradise that is Nozawa Onsen is located in the northern part of Nagano Prefecture. It has a small-town, local feel, making it a perfect getaway from Tokyo, whether you love one or both of these activities.
Relaxing hot spring options
Local legend says a monk discovered the hot springs in the eighth century, and the town has been famous for them since the Edo period. The offerings include 13 public baths (called soto-yu), which are open to anyone and everyone, free of charge. Donations are appreciated, though, and you can put them in the marked boxes outside the bathhouses.
Suggested Activity
Mt. Fuji and Hakone Day Trip
Spend a day trip traveling to Mt. Fuji, Japan's most famous symbol and highest mountain. ...
Never visited a Japanese bathhouse before? Check out our bathing etiquette primer before taking the plunge.
Hitting the slopes in Nozawa Onsen
Nozawa Onsen is said to be one of the spots where skiing kicked off in Japan. It's also where the biathlon events were held during Nagano's 1998 Winter Olympics. It's got the best of both winter sports and traditional Japan — and it's accessible to foreign visitors thanks to English maps, menus, and so on.
Nozawa Onsen Ski Resort: Info and pricing
It may be the only resort in Nozawa Onsen, but without a doubt, it's an impressive establishment. Even though it opened in 1924 (making it one of Japan's oldest ski resorts), it has modern lifts and gondolas. It has a good balance of terrain for all levels of experience. There is also a chance to get a view of the Northern Japan Alps and the Sea of Japan.
---
Best Value Flights To Tokyo
---
The ski and snowboarding season typically runs from late November to early May.
A one-day lift pass is

¥

5,200

for adults,

¥

2,900

for kids, and

¥

4,200

for seniors.
Half-day passes (4 hours) are

¥

4,400

,

¥

2,500

, and

¥

3,500

, respectively.
Night skiing (4:30pm-8pm Dec-Mar) passes are also available for adults (

¥

1,900

) and for kids (

¥

1,050

).
See the official site for a full price list, which includes 2-day, 3-day, and seasonal passes and more.
Nozawa Onsen Snow Resort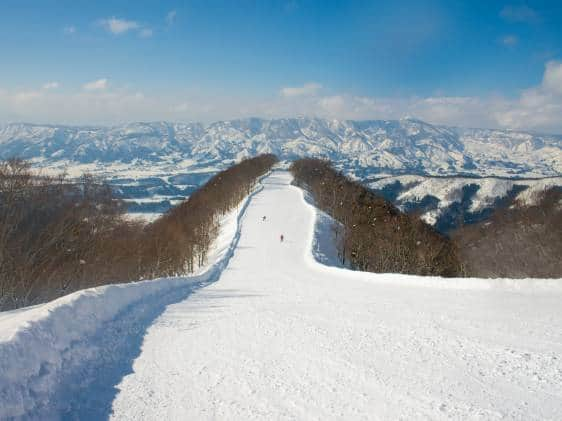 7653 Toyosato, Nozawaonsen, Shimotakai District, Nagano
Pro tip: Booking.com offers a range of very decent Nozawa Onsen hotels and ryokan (traditional Japanese inns).
Nozawa Onsen Fire Festival
We highly recommend going in mid-January if at all possible, as that is when you can experience the Nozawa Onsen Fire Festival, one of the biggest fire festivals in Japan. The event honors a type of deity known as dōsojin and is held to celebrate boys born in the past year, to dispel evil spirits, and to pray for happy marriages.
Important note: The festival takes place every 15th of January. However, due to COVID-19 measures, many events have been canceled. Always check the official site for full details regarding the 2022 event.
Traveling from Tokyo to Nozawa Onsen
The Hokuriku Shinkansen's Hakutaka is the only bullet train to go from Tokyo to Iiyama, the closest station to Nozawa Onsen. It's a little under two hours and around ¥8,570 one-way. From there, you can take the Nozawa Onsen Liner Bus for ¥600 (about 25 minutes). There is also a taxi service available.
Looking for other places to hit the slopes this winter? The mega ski resort of Shiga Kogen is also in Nagano. See our guide for powderhounds coming from Tokyo for more ideas.
Suggested Activity
Tokyo NRT (Narita) and HND (Haneda) Airport Transfer Low Cost Taxi
This shared taxi service is a cheap option for a door-to-door transfer from the airport. If you're new to Japan, then use this friendly minibus service for a cost-effective and stress-free arrival to the world's most populated city. A standard taxi from Narita airport is usually about $200USD, over four times the price of this shared taxi service! Moreover the ...
While we do our best to ensure it's correct, information is subject to change. Post first published January 2018. Last updated January 2022.
7653 Toyosato, Nozawaonsen, Shimotakai District, Nagano Prefecture 389-2502, Japan