The nights draw in and the temperatures drop, but no need to feel down—you have plenty to discover around Tokyo to keep your traveling heads busy in the fall season.
Nature is at its best at this time in Japan. And that's what I love about the country—the seasons and its visual impact. You get the warm lovely pinks when it's cherry blossom season and then luscious deep reds when it's fall. Like much of Japan, a picture can't really capture its true beauty, meaning you'll just have to see it for yourself! So without further ado, here are our top picks for fall day trip from Tokyo.
1. Okutama — West Tokyo
Getting there
Take the JR Chuo line from Shinjuku Station, change to the JR Ome line at Tachikawa or Ome Station depending on the service to Mitake (890 yen, 90 minutes). Buses (280 yen, 10 minutes) from Mitake Station take you to Takimoto for the cable car.
What to do
Okutama is the place to go if you're a hiker. It's also popular for river activities along the Tamagawa, including rafting and canyoning, so it's the perfect place for some adventurous outdoor fun.
Okutama boasts incredible views too. From Takimoto Station, you can take a cable car or hike for around an hour through an ancient cedar-lined pilgrims' path to Mount Mitake. This is an old mountain hamlet that seems like the polar opposite of what you would find in the modern day electronic Tokyo. Another half-hour walk from here will lead you to Musashi-Mitake Jinja. This is a famous Shinto shrine and pilgrimage site that dates back to around 1,200 years ago.
You can also find the pilgrims' lodge Baba-ke Oshi-Jutaku, which is a thatched roof building from 1866. You can access this by picking up a trail map from the Mitake Visitor Center which is 250m past the cable car station. Note that the cable car runs from 7:30am to 6:30pm, so plan ahead.
Suggested Activity
Free Online Casual Japanese Conversational Class
Join this free online Japanese class for both beginners and advanced-level students. Lessons will be mainly taught by using presentations. For beginners, English is used to help you understand and get started with Japanese. For advanced level, keigo (polite Japanese) or business-level Japanese will be taught.
After that, you can go on a 5-hour round-trip to the summit of Mount Otake. It's a relatively easy hike with only a bit of climbing involved. This is well worth it and the hike is consistently highly recommended. The views are amazing, with Mount Fuji being visible on a clear day.
2. Kinchakuda — Saitama
Getting there
Take the Seibu Ikebukuro Express line from Ikebukuro station (47 mins). At Hanno Station change onto the Seibu Ikebukuro line to Koma Station (7 mins).
What to do
This park is an absolute must for any fall day trip near Tokyo. This is one of the most mesmerizing sights in all of Japan during this particular time of year.
The Kinchakuda-Manjushage is a flower field on the inside of the Koma River famous for its Red Spider Lily Festival. The river curves 360 degrees and there are more than one billion blooms of those gorgeous shades of red with some shades of white too. There is also a small field of Cosmos that bloom at the same time too. Along with the greens of the trees, Kinchakuda in Saitama is one of those perfect postcard sights.
Best time to go
The best time for this view is from the middle of September to the middle of October.
Take a look here for more event details on the Red Spider Lily Festival. 
Kinchakuda
125-2 Komahongō Hidaka, Saitama
Monday - Sunday 8:00am–5:00pm
3. Lake Chuzenji (Chuzenjiko) — Nikko, Tochigi
Getting there
To get to Lake Chuzenji Onsen, take the Tobu-Nikko Line from Asakusa Station to Tobu -Nikko Station (transfer at Shimo-Imaichi Station). Take either the Tokkyu Limited Express train (1 hour 50 mins) or the Kaisoku Rapid train (2 hours, around 1,360 yen).
Suggested Activity
Free Online Casual Japanese Conversational Class
Join this free online Japanese class for both beginners and advanced-level students. Lessons will be mainly taught by using presentations. For beginners, English is used to help you understand and get started with Japanese. For advanced level, keigo (polite Japanese) or business-level Japanese will be taught.
What to do
This is a very different day trip to the first two that are listed. Lake Chuzenji is in the mountains above Nikko. The lake is situated at the foot of Mount Nantai which is the stratovolcano of Nikko National Park. The eruption of this volcano led to the valley being blocked below and to the creation of Lake Chuzenji around 20,000 years ago.
Most of the shores are quite underdeveloped and forested apart from the lake's eastern end where the small hot spring town of Chuzenjiko Onsen was formed. Sightseeing boats now leave from this particular onsen.
Again, this particular lake is great for hiking. You can hike around the whole 25-km circumference of Lake Chuzenji with hilly lakeside walking trails. Remember that Nikko also boasts other natural wonders such as the very famous Kegon and Ryuzu waterfalls, so make sure to spend your time here wisely.
There are incredible panoramic views on offer from along the Chuzenjiko skyline too. This is a whopping 8-km long and is a favorite for cheapos, as it's absolutely free!
Best time to go
This day trip is particularly beautiful in mid to late October, when again those fall colors can be seen all over. The colors even reach the peak of the lake's shores and the surrounding mountains.
Lake Chuzenji Onsen
2484 Chūgūshi, Nikko-shi, Tochigi-ken
Read more
⚠️
This location is permanently closed.
One day not enough? Read our guide to escaping to Nikko for a few days. 
4. Kōyō — Fall Foliage Spots
Kōyō is the simple act of fall leaf watching. Koyo has been a popular act for centuries now and is equivalent to the cherry blossom viewing in spring (hanami). It is again the colors that you do this for. With those amazing shades of red, yellow and orange, this is a traditional activity that you don't want to miss out on. There are various spots that give you an incredible koyo experience. Below are a couple that are well worth a visit.
Fuji Five Lakes
Getting there
Take the JR Chuo Line from Shinjuku Station to Otsuki Station taking a direct limited express train (70 minutes, about 2,500 yen) or a local train (100 minutes usually with one transfer, 1,320 yen). From Otsuki, take the Fujikyu Railway Line to Kawaguchiko Station (55 minutes, 1,140 yen).
What to do
What would a visit to Japan be without Mount Fuji? The Fuji Five Lakes region lies at the northern base of this magnificent mountain. The region is about 1,000 m above sea level and around the lakes of Kawaguchiko, Saiko, Yamanakako, Shojiko and Motosuko. This is one of the best points to see the glorious Mount Fuji from. It's also a good base to climb it too.
Lake Kawaguchiko is the easiest to access for travelers. It offers the most things to see, being more developed than the other lakes. Not to be missed.
Lake Kawaguchiko
Fujikawaguchiko, Minamitsuru District, Yamanashi Prefecture, Japan
Shosenkyo Gorge
Getting there
The Shosenkyo Gorge is north of central Kofu City which is 100 km west of Tokyo. From Tokyo to Kofu: take the direct limited express train (90-105 minutes, about 4,000 yen) from Shinjuku Station. Alternatively you can take a local train (160 minutes, 2,270 yen with one transfer at Takao). Buses to the gorge leave in front of Kofu Station once every one or two hours. It goes to Shosenkyo-guchi (30 minutes, 590 yen), Greenline Shosenkyo (40 minutes, 820 yen) and the terminal stop Shosenkyo Taki Ue (50 minutes, 900 yen).
Shosenkyo Gorge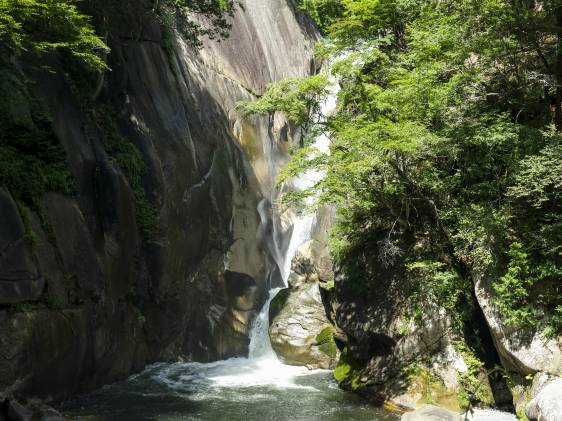 Takanaricho, Kofu, Yamanashi Prefecture 400-1214, Japan
What to do
Shosenkyo Gorge is one of Japan's most beautiful gorges. It forms part of the Chichibu Tama Kai National Park and covers more than 1250 km of valleys, forested mountains and some rural towns in the prefectures of Saitama, Nagano, Yamanashi and of course Tokyo.
There are fantastic views again with this hike. This is about 4-km along the Arakawa River from the Nagatoro Bridge to the Sengataki Waterfall. Interestingly the rocks are shaped and resemble different animals.
At the top of the mountain there is a sweet little village. This is made up of souvenir shops and restaurants, feeding those hungry hikers. There is the terminal bus stop Shosenkyo Taki Ue too. Do wander around this village as it is the departure point of the Shosenkyo Ropeway. This allows you to access the observation point which gives you panoramic views of Mount Fuji on clear days and the magnificent Southern Japanese Alps too.
Best time to go
Shosenkyo Gorge is best visited from late October to mid-November when the fall leaf season is really in gear.
Shosenkyo Ropeway
441 Ikaricho, Kofu, Yamanashi 400-1217, Japan
Monday - Sunday 9:00am–5:30pm
There is plenty to do in the city of Tokyo itself for sure. But every now and then it's nice to escape any busy city. The places listed are just perfect for those day trips during the fall months. It is then that you get to really appreciate the scenery of the places. With the richest colors and those crisp temperatures, these outstanding locations deserve to be part of any travelers itinerary. Enjoy, you adventurous hikers or nature lovers!