Summer in Tokyo is a trial, even for the most sun-loving of us. With humidity, city heat and long days, it's no wonder people plan escapes well ahead of time.
Whether you can sneak away for a weekend or just a day trip, there are some great spots to escape the city rush and get back to nature. With options from beaches to hikes to rivers, you don't need to go too far to forget about the sticky streets of Tokyo. These five picks are mostly day trips, but can easily be extended into a weekend sojourn with a night at a nearby hostel. For a few more ideas, check out our year-round day trip guide from Tokyo.
Enoshima: Island escape
If you're divided between beaches and walks, then Enoshima Island is perfect for you. With stunning stretches of lovely sandy goodness on the mainland and plenty to explore on the island from caves to gardens, you won't be short of things to do.
For example, at Enospa, you can enjoy mixed pools, separated baths and even views of Mt. Fuji on a good day.
Enoshima Shrine consists of three shrines, including a statue of Benten in the main complex, where you can wash your money for good fortune (she is the goddess of wealth after all as well as a dragon defeater).
For a relaxing walk, you can explore the botanical gardens of the Samuel Cocking Garden, along with a small lighthouse known as the Sea Candle.
Suggested Activity
Japan Rail Pass
The JR Pass is a 1 week pass that allows unlimited travel on Japan Rail lines throughout the country. This ticket is extraordinarily good value for long distance and inter-city travel. *Restrictions: Can only be purchased by temporary visitor visa holders not already in Japan. ...
The island is also home to two easily accessible caves—one dedicated to the dragon which apparently used to terrorize the area.
Very close to the caves is the Love Bell, which couples can ring for good luck and put padlocks on the fence.
Pro tip: With an Enopass you get admission to the primary attractions, including the gardens and observation tower, as well as the caves, use of the escalators for ¥1,000, as well as discounts to other attractions including Enospa, the Benten Statue and the aquarium.
For more info, see our Enoshima guide. And for other beach options, try our cheapo beach guide. We have a few ideas for divers too.
Access: Enoshima can be reached on the Odakyu Line from Shinjuku in under an hour. Change to the Enoshima Electric Railway at Fujisawa. The journey costs ¥810.
Enoshima Shrine
2-3-8, Enoshima, Fujisawa-shi, Kanagawa-ken
Okutama: Back to nature
A prime location for getting back to nature, Okutama is a wealth of valleys, forests and mountains under two hours from Tokyo. With stunning views, winding rivers and bonuses like hot springs, waterfalls and abandoned cable cars, this is a great one to turn into a weekend away if you can.
Just west of Tokyo, you can access Okutama by rail, and there is a special 'Holiday Express' train if you go on weekends or holidays. Once there, you can choose from the many hiking trails (we recommend Mt. Kumotori), the hot springs, as well as river activities and lighter strolls. You can camp and have a BBQ by the river, enjoy some fishing with rental gear available at Hikawa Kokusai Masu Tsuriba, and even take to the water yourself. For example, you could try a spot of kayaking.
Suggested Activity
Rent a Go-Kart in Akihabara
Rent a go-kart and ride around Akihabara, dressed up as a fun character. This is one of the most popular experiences in Tokyo!
Also in Okutama is Nippara Limestone Cave; the longest in the Kanto region and a refreshing 11 degrees all year round. The cave is naturally formed and has some impressive rock formations with tactical lighting, giving it quite a mystical feel.
Access: Depending on your plans in Okutama, the transport will vary, but Okutama Station is only an hour and a half from Shinjuku with one change at Ome, costing ¥1,080.
Okutama Station
Hikawa, Okutama, Nishitama District, Tokyo 198-0212
---
Matsumoto – slow city break
Definitely more of a weekend away than a day trip (although it can be squeezed in if you don't mind a night bus), Matsumoto is a quiet city break perfect for those wanting some culture. Nestled in Nagano Prefecture, Matsumoto is a beautiful city filled with art galleries, spectacular castles and plenty of cute little cafes to enjoy. Handily, it is the perfect city for exploring with minimal effort (perfect for summer heat) as you can rent bicycles for free and cycle around the flat city to your heart's content.
While there are plenty of shrines and temples to explore, there is also Crow Castle—a carefully renovated structure which is one of the top three in Japan. Visual artist Yayoi Kusama was born here and the city has a brilliant permanent exhibition of her paintings and installations which is really enjoyable, even if you don't consider yourself an art kind of person.
The city has numerous quaint museums including an old school house and a timepiece museum, as well as a lovely traditional shopping street with sweet treats and antique stalls. The surrounding area is beautiful, with onsen (hot springs) and country walks as well as wasabi farms if you are looking to spice things up a bit. Read more about planning your Matsumoto getaway.
Access: Matsumoto is best reached by highway bus—this takes around 3.5 hours and costs about ¥3,500. Tickets can be booked online or bought at the bus station (Shinjuku or Matsumoto). A direct limited express Azusa train takes about half the time, but costs twice as much.
Matsumoto Castle (Crow Castle)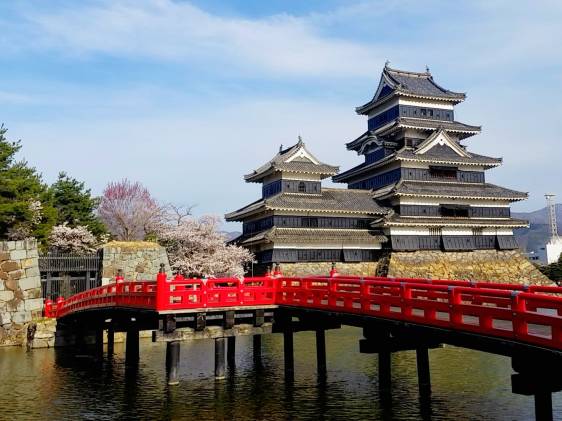 4-1 Marunouchi, Matsumoto, Nagano 390-0873, Japan
Monday - Sunday 8:30am–4:30pm
---
Nokogiriyama – mountain with a view to hell
A 330m-tall mountain on the Boso Peninsula, Nokogiriyama has stunning views of Tokyo Bay, a beautiful temple complex and a chance to look into hell. Well, you, know sort of. Not to fall into the category of an easy stroll, Nokogiriyama takes about an hour to ascend, but there is also an option to take the ropeway up as well. Maps are available and you can finish the rest of the walk to the observation point up the many, many concrete stairs.
Along any walk on this mountain, you will find yourself surrounded by stone statues big and small, carved into and out of rock. The largest is the 30m-high relief statue of Hyaku Shaku Kannon, who was carved into the walls of the mountain between 1780 and 1783. The statue is actually housed within the sprawling temple complex of Kenkonzan Nihonji Temple, which takes about an hour to explore in full as it has multiple sites.
Finally, the most famous part of the mountain is the Jigoku Nozoki, aka the 'view of hell', which has a precipice so extended it can give the bravest of souls vertigo. After a little adrenaline, you can make your way back down the mountain, enjoying the myriad expressions of the carved Buddhist worshipers on the '1500 Arhat Approach', although only around 500 are left standing today.
Access: The mountain base can be reached by ferry (if you're close to Yokohama/Yokosuka, or by train from Tokyo, which takes about two hours and costs just under ¥2,000 one way. Check our Nokogiriyama hiking guide for more details.
Nokogiriyama
Motona, Kyonan, Awa District, Chiba 299-1901, Japan
---
Ushiku Daibutsu – an unusual adventure
Now, if you want something more unusual for your day trip, then we have just the thing. Towering high at 120m and weighing in at 4000 tons, the Ushiku Daibutsu is a sight to behold. Located pretty much in the middle of nowhere in Ibaraki Prefecture, this day trip is a bit of an adventure, but well worth the journey.
Unlike most Buddha statues, you can venture inside this guy, to see rooms filled with statues, eerie music and amazing views across the landscape. With spaces including the 'World of Infinite Light and Life' and the 'World of the Lotus Sanctuary', you can practice your calligraphy skills and admire hundreds of golden statues, as well as having your trusty shrine book signed.
The gargantuan Buddha is located in a small park, with a (sad) petting zoo, flower fields and a koi pond—with lots of great spots for a picnic. The local scenery is really beautiful, and this is ideal if you want an easy day out, no hiking, no trekking, more of a nice-day-in-the-park kind of vibe—with a touch of the unusual, of course.
Access: From Tokyo Station, you can catch a direct train to Ushiku Station on the JR Joban Line, which takes 50 minutes and costs just under ¥1,000. From there you can catch a local bus for about 20 minutes to the statue.
Ushiku Daibutsu
2083 Kunocho, Ushiku, Ibaraki 300-1288, Japan
March to September: Weekdays: 9:30am-4:30pm; Weekends: 9:30am-5pm | October to February: 9:30am-4pm daily
While we do our best to ensure accuracy, details may vary. Post first published in 2017. Last updated in June, 2019.