You don't have to wait until mid-March or April to see sakura in Tokyo. Kawazu-zakura are early blooming cherry blossoms, and you can see them between early February and early March. As an added bonus, travel during this time usually means fewer crowds and cheaper prices.
There are actually a whole bunch of different cherry blossom varieties. The most common, and the one most associated with hanami (cherry blossom viewing) is called Somei-Yoshino; these are the one's that the famous cherry blossom forecast is based on. There are also yaezakura, late-blooming cherry blossoms, which can be seen in late April.
What is Kawazu-zakura and when does it bloom?
Kawazu-zakura is a type of cherry blossom that blooms at the end of the winter months, usually from early February to early March. It is distinct due to its deep, rich pink color and lasts longer than the paler Somei-Yoshino blossom.
You may be wondering where Kawazu-zakura blossoms come from, and here's a hint — it's in the name. In 1955, a local man in Kawazu Town, Shizuoka happened upon a log on the river bed. He planted it in his garden and it grew into what would eventually be known as Kawazu-zakura. Some of the original trees planted at that time still stand to this day.
Kawazu-zakura also overlap with the plum blossoms, another seasonal sight worth seeking out.
Where to see Kawazu-zakura in Tokyo
There are little spots all over Tokyo where you'll notice a Kawazu cherry tree or two: in Ueno Park by Shinobazu Pond; on Tobu Bridge with a view of Tokyo Skytree; in Inokashira Park near the Ghibli Museum; and dotted in shrines and temples all over Tokyo, such as Hatomori Hachiman Shrine, Ikegami Honmonji Temple, and Sakura Jingū Shrine.
Suggested Activity
Mount Fuji Day Trip with Private Driver
Spend a day exploring Mount Fuji and the area around it with this private, fully customizable tour - from all around Kawaguchiko Lake and up to the Mount Fuji Fifth Station.
Here, we've highlighted some popular and lesser-known spots to see the blossoms, as well as some day trips outside of Tokyo.
Yoyogi Park
Not many realize that the flowers next to the toilets (not the most charming of places, we know) in Yoyogi Park are in fact cherry blossoms and not plum. There are only a few trees scattered about but there are enough to sit down and set up a picnic blanket — or a ¥110 sheet from Daiso — for a pre-cherry blossom season hanami (flower-viewing party). Check the park's Twitter for flowering updates.
Yoyogi Park
Yoyogi Park, 2-1 Yoyogikamizonochō, Shibuya-ku, Tōkyō-to 151-0052, Japan
Shinjuku Gyoen National Garden
You shouldn't be surprised to find all types of cherry blossoms under the sun at Shinjuku Gyoen National Garden; there are around 65 species in total. Not only will you find Kawazu-zakura here but also other early-blooming varieties such as Atami-zakura (see below) and Satsumakan-zakura. You'll find Kawazu cherry trees in front of the restaurant Yurinoki and near the management office. Check the garden's blog for the current flowering stiuation.
Shinjuku Gyoen National Garden
11 Naitomachi Shinjuku, Tokyo 160-0014
Adults:

¥

500


Students:

¥

250


Seniors:

¥

250



Rinshi no Mori Park
A wonderful place to go on those warm days between winter and spring, Rinshi no Mori Park has a spacious lawn that is surrounded by Kawazu cherry trees. You'll find many families settled down for a day of flower viewing, and you can join them. Keep up to date on the flowering siutation through the park's Twitter.
Rinshi no mori Park
2 Chome-7 Koyamadai,, Shinagawa Tokyo 142-0061, Japan
Kyūnaka River
Around 13 minutes from Hirai Station in Edogawa Ward is a spot with up to 50 cherry trees in bloom. The view of Tokyo Skytree in the background makes for some iconic photos, especially if you walk down to Fureai Bridge to get it all in the frame. You can find the flowering information on the ward's website.
Kyunaka River Kawazu Cherry Blossom Spot
3-4 Hirai, Edogawa-ku, Tokyo
Oyoko River and Kiba Park
One of the earliest to bloom in Tokyo, the more than 105 cherry trees near Kiba Park may be the highest concentration of Kawazu cherry trees in the Tokyo area. Take Exit 1 from Kiba Station and turn left along the Oyoko River — you won't miss them. At the right angle, you can also get a shot with Tokyo Skytree in the background. These trees are said to get going in early February, but keep track of their situation on the Kōtō Ward website.
Kiba Park
4-6-1 Hirano, Kōtō-ku, Tokyo
Day trips to see Kawazu-zakura from Tokyo
If you want to get a full helping of Kawazu cherry trees, then you may have to get out of Tokyo and go somewhere with more space.
Suggested Activity
Tsukiji Fish Market Food and Walking Tour
Join this food and walking tour and discover the famous Tsukiji Fish Market. Explore the outer market as you sample the area's highest-quality delicacies and finger foods.
Miura City
1.5 hours from Shimbashi Station
¥
1,050
(one way)
On the coast of Kanagawa is Miura-kaigan, and not far from the station, you'll find enough flowers to satisfy you for a whole spring. One thousand Kawazu-zakura trees line the road towards Komatsugaike Park and the city's annual festival will not disappoint you with things to do and see. There will also be nighttime illuminations for that perfect pink glow.
Tip: This tour will take you to Miura and back from Tokyo with a stop in Yokohama.
Miura-kaigan Kawazu Cherry Blossom Festival
Matsuda Town
1 hour 15 minutes from Shinjuku Station
¥
790
(one way)
Matsuda Town is known for wintersweet shrubs, and also for their annual cherry blossom festival that takes place every year from February to March. Around 360 Kawazu-zakura trees cover the south side of Mt. Matsuda, which offers a great vantage point to see Mount Fuji.
Matsuda Cherry Blossom Festival
Kawazu Town
2.5 hours from Tokyo Station
¥
6,050
(one way)
As Kawazu-zakura originated in Kawazu Town, you can bet that they put on a party that's bigger, better, and has more cherry blossoms (about 8,000) than anyone else. The Kawazu Cherry Blossom Festival usually runs from February to March, depending on the flowering situation, and will have nighttime illuminations.
Kawazu Cherry Blossom Festival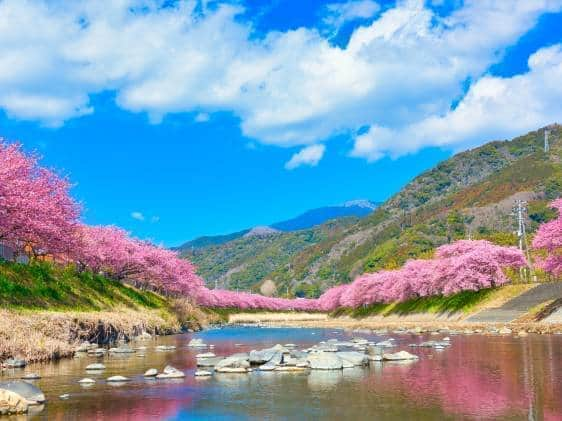 Early
Feb
~
Early
Mar
2024
Atami-zakura: Another early-blooming cherry blossom
Kawazu-zakura is the most famous early-blooming blossom, but it isn't the only variety to bloom at the end of the winter months. Enter Atami-zakura. From the name, you may be able to guess that this variety is cultivated in Atami (in Shizuoka). Lucky for us they sprout a whole month before Kawazu cherry trees and last for around a month, too. If you are here from January to February you should catch the Itokawa Cherry Blossom Festival, which takes place only 15 minutes from Atami Station. Check Atami's homepage for the current flowering situation.
Ito River Path (Atami)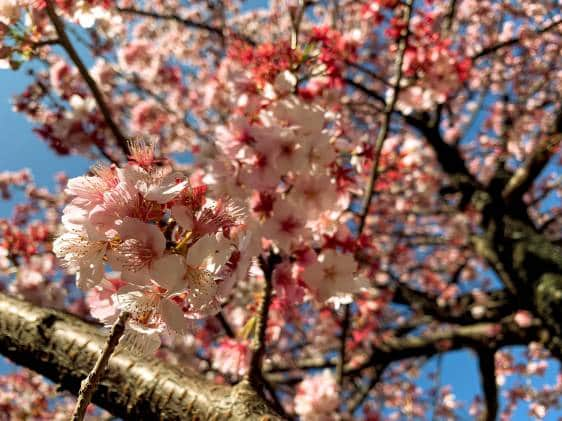 3-17 Ginzacho, Atami, Shizuoka 413-0013, Japan
Ask our local experts about Tokyo
Get our Tokyo Cheapo Hacks direct to your inbox
Popular Posts From Tokyo Cheapo
Recommended hotels located nearby
Popular Posts From The Cheapo Network